Politics and Race, Dance and Downtown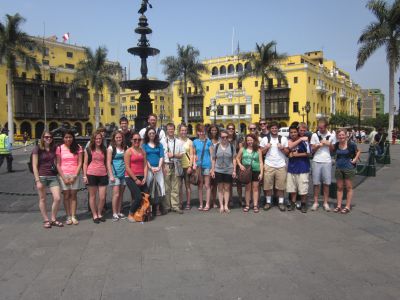 We began our Lima study program at Catedral del Buen Pastor (Cathedral of the Good Shepherd), our venue for lectures, workshops and Spanish classes.  The host families helped each student find their way to Good Shepherd using public transportation, a small but significant feat given the complexity of Lima's commercial bus system.
Our study coordinator, Celia, gave a presentation on Lima culture, comparing the customs in Peru's capital with those in the Andes.  James Plunkett, an American who has lived here for over 40 years, described recent political events and gave his perspective on Peru's rapidly-growing economy.   Dr. Eduardo Arroyo explained the racial/ethnic composition of Peru, highlighting the differences between the criollo culture prominent here along the coast and the cholo (Andean) culture that characterizes the highlands.  Pedro Farias used dance to illustrate the differences between the coastal, highland and rain forest cultures, giving us a chance to learn a few steps from traditional dances of each region.
To gain a better understanding of Peru's capital city and an appreciation of the changes that have taken place since the Spanish colonial period, we boarded a bus for downtown Lima with our study coordinator, Celia.  The tour began at the Plaza de Armas, a large public space with a fountain in the center and impressive buildings on each side.  One of these, the Cathedral, has served as the center of Peru's Roman Catholic church for over four centuries.  It is also the burial place of many notable Limenos, including the city's founder, Francisco Pizarro.  The Cathedral features grand architecture and an interesting collection of religious relics.
From the Cathedral the students walked along a pedestrian mall, enjoying the sunshine and sights along the way.  The walk revealed a more recent side of Lima's development, where North American brands like McDonalds are becoming increasingly popular.  After a tour of a beautiful colonial building where the country's oldest university, San Marcos, got its start, the students dined on criollo cuisine (e.g. anticuchos, potato salad, baked chicken) at a favorite local restaurant, La Casona.  Then they returned to Good Shepherd for their afternoon language classes.