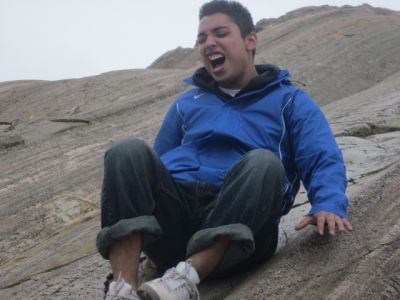 In the early 16th century, the Inca Empire extended over all of modern-day Peru as well as parts of Colombia and Ecuador to the north, Brazil to the east and Bolivia, Chile and Argentina to the south.    Twelve million people lived in what was called Tawantinsuyo, the quechua word for "four parts together."  Cusco was the capital of this empire and was widely referred to as the "navel of the world."
We spent a day visiting Cusco and several of the archaeological sites that encircle it.  We began in Tambomachay, a resting place where the Inca (King) and his family would stop to purify themselves on their return to the capital after traveling to the rain forest.  We climbed atop a platform at Pukapukara to take in the view where sentries once stood guard over the eastern edge of the city.  In Q'enqo we explored narrow passages where animals were sacrificed and saw a place where human mummies were found.  And we passed through a dark cave and a set of natural slides on our way to see the majestic three-layered construction of Sacsayhuaman, once home to the Incas temple of the sun and, later, site of a fierce battle between the Spanish conquistadores and Manco Inca's army.
We descended into the city of Cusco to visit the Plaza de Armas, or main square, to learn more about the history and architecture of the city.  We stopped at an artist's studio and ate lunch at a local restaurant.  We finished our day at the Inca Garcilaso Historical Museum, examining a collection of tools, weapons, bowls and implements.  Of particular interest were the bronze chisels and hematite hammers used to shape the massive stones found at Sacsayhuaman and the other sites we visited.  Ingenious!