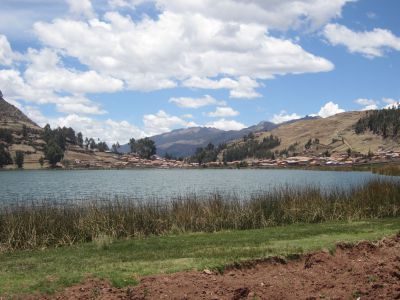 Acopia, a town of several thousand inhabitants, sits between two lakes in the Andes mountains.  At 3,715 meters (12,188 feet) above sea level, this is highest and most remote of the service locations this semester.  We met Luis Delgado, founder of Yachay Wasi (House of Learning in Quechua), during a visit with the whole group to plant 100 native trees back in September.  Luis and his daughter, Sandra, expressed interest in having a student volunteer at the organization and arranged for a host family — Feliciano and Teodora Fputturi and their five children — to open their home.
Joshua came to Acopia with the understanding that he would continue the tree-planting project as well as teach environmental education to children in the local primary and secondary schools.  As it turned out, this spring season has been unusually dry — there was no significant rainfall for over a month after Joshua arrived.  Some locals blame climate change.  Others gather frogs to take to the top of the hill so they can call for rain.  In any case, the tree planting has been postponed until wet weather arrives.
In the meantime, Joshua has given talks on water quality and trash cleanup to large groups of children while assembled first thing each morning in the elementary school playground.  Later he visits the secondary school where he speaks to individual classes on the same topics.  And when he is not in school Joshua spends time with his host family — moving animals to pasture, cutting alfalfa for the guinea pigs and playing with his two-year old sister, Maya.