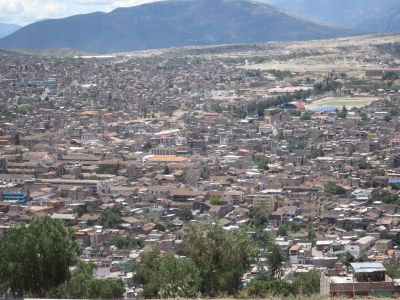 Just say, "Yes"!  This could be the motto for the three students serving in Ayacucho this term.  Saying yes when asked to try something new has opened doors for each student and addressed real needs for the people they work with each day.
Marta is volunteering at Vidas Health Clinic and Preschool.  The clinic serves people with limited means who live on the outskirts of the historic city of Ayacucho.  Marta helps out in a variety of ways, registering patients, taking blood pressure, assisting with treatment and providing encouragement.  Several days a week she teaches English to preschool children.  On the weekends she travels with her host mother and father, Raquel and Max, to Quinua, a picturesque town known for its ceramics that is also home to a sister clinic.  On the day we visited, Marta showed us how she helps with the medical testing done to detect blood sugar levels, urinary infections and pregnancy. When she is not working in one of the clinics or at the school, Marta participates in church activities, plants vegetables in the garden and helps gather honey from several hives on the roof of her home.
Caitlin has her hands full, both at school and at home.  She volunteers at William Thomson primary school, teaching both English and physical education in each grade level.  On the day we visited she was busy preparing materials to teach basic English vocabulary to children in the first grade.  The teachers appreciate her assistance in the classroom and the students have learned to respect her abilities on the soccer field.  When she is not at school Caitlin is engaged in the life of her host family.  Her host father and mother, Pastor Dionisio and Elizabeth, have five children and Caitlin is often called upon to take care of the younger girls or hang out with the older boys.  As busy as she is, her experience has been very rewarding and is surely a blessing to her family and the students she interacts with each day.
Si is volunteering at a leadership school founded by his host father, Samuel Alcarraz.  His skills in computer science are the perfect match for this growing organization.  Si spends each morning entering the school's student data into a database he designed soon after his arrival.  In the afternoons and evenings he assists his supervisor, Samuel, in a variety of capacities, accompanying him at workshops, events and meetings with local officials.  On the day we visited Si showed us the new website he is designing for the organization.  Later, Samuel invited his leadership team to meet us and hear our insights about leadership.  The team ranged in age from 5 to 70-something, reflecting Samuel's belief that it is never to early, nor too late, to become a leader rooted in Christian values.  The organization's founder appreciates Si's ability to live out his values, providing an example to the leadership team.  Samuel has high hopes for developing people's capacity to lead in his hometown of Ayacucho and Si has offered his talent and time in a selfless way — mornings, afternoons, evenings and weekends — to this worthy task.