Humor, Dance, Water and Fauna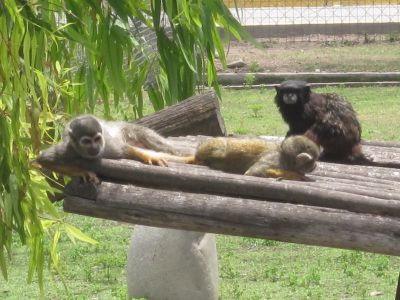 The students have left for their six-week service assignments and are beginning work in Huaraz, La Merced, Ayacucho and Acopia.  The directors' visits to each location will commence next week.  In the meantime, we'll post photos of our final activities in Lima.
After our return from the Andes, the students enjoyed a series of lectures, workshops and field trips to the outskirts of the city.  Father Eduardo Arens captivated us with his account of how Jesus used humor to engage his listeners and urged us to embrace our  humanity when meeting people of other backgrounds during the rest of our time in Peru.
Lupe Guinand spoke about the environment, showing photos from a recent visit to the Madre de Dios river where unauthorized gold mining is wreaking havoc on the upper reaches of the rainforest.  She described her hope that education, among adults and children alike, can help bring about economic development that is appropriate and sustainable.
Lectures are often followed by workshops, a chance to interact with Peruvians who have a particular artistic talent.  One of our favorite workshop leaders is Pedro Farias, an accomplished dancer who taught us traditional dances from the three regions of Peru:  Coast, Mountains and Rainforest.  Pedro helped the students get their feet moving and hearts pumping during his two-hour session.
Field trips have given us many opportunities to see what life is like beyond the neighborhoods where the students spend most of their time.  We spent an afternoon visiting a highly-respected private school at the edge of Lima that prides itself in educating tomorrow's leaders.  Colegio de la Inmaculada (School of the Immaculate Conception) was founded by Jesuits over a century ago and was relocated to its present location in Surco in 1956.  The 29 hectare (72 acre) campus is impressive, in particular the three grass soccer fields where children learn to play Peru's favorite sport.
Water is expensive in Lima, and the cost of keeping the fields green with would be prohibitive if it were not for the water reclamation system the school developed several decades ago.  After touring this impressive project, we climbed back down the hill to discover a zoo of sorts, a collection of animals native to Peru which have been donated by alumni over the years — lions (pumas) and tigers (tigrillos) and bears (spectacled), oh my!