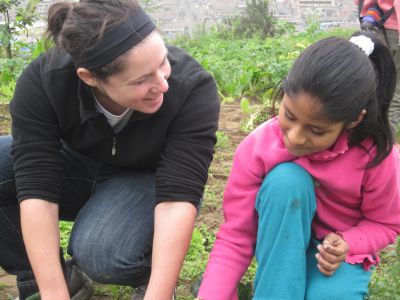 During their first week the students have learned a lot about life near the center of Lima.  They have toured downtown, taken part in lectures and language classes and, most of all, interacted with their host families.
At week's end we extended our reach to the outskirts of Lima, visiting two Pueblos Jovenes (young cities).  These areas form a ring around the center of Lima and life here is quite different.  The farther from downtown, the fewer the economic resources.   But what they might not have in material possessions they make up for in other ways.
We began in the city of Pamplona Alta at Shalom, a center for children with disabilities.  Several students assisted with the children's lessons and therapy, several others picked up paint brushes to bring new life to old walls and the rest of the group traveled farther up the hill to scrape and paint the walls of an Anglican church that was damaged by flooding.  We ate lunch at the center and spent another hour finishing our projects before boarding the bus for our next destination.
Our program assistant, Alicia, lives alongside several sisters and daughters in the city of Villa Maria del Trionfo.  We arrived at her home late in the afternoon and sampled bowls of sopa de higado de pollo (chicken liver soup) and mazamorra (a dessert made of purple corn and pineapple) prepared by her daughter-in-law.  Then we joined in games of volleyball and soccer and also learned to play a few local versions of tag with the neighborhood children.  When darkness fell, we mingled a while longer then retired in groups of 3 or 4 to have dinner with our hosts.
The next morning we walked up a steep hill with Ms. Gregoria, coordinator for a nonprofit organization that promotes urban gardening in this part of Lima.  She described how the neighbors she works with have brought life — in the form of beets, carrots and sweet potatoes — to the sandy soil that blankets the area.  Families are organized into groups of ten and typically spend two to four years learning how to grow their own food, both for their own nutrition as well as a source of income.  We enjoyed getting our hands dirty, weeding several beds, planting beat seeds and harvesting sweet potatoes.  The day ended with Alicia's anticuchos (beef and chicken skewers) served with potatoes, corn on the cob and fresh-picked lettuce — delicious!