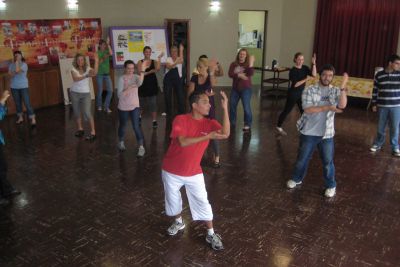 The past few weeks Peru SSTers have sampled a variety of Peruvian art forms. From the oil paintings and wood sculptures of the Museum Pedro de Osma in Lima to the traditional dance performances at the Qosqo Center of Native Art in Cusco, we have encountered the strong artistic spirit of this country.
No encounter has been as close, however, as our workshop with Pedro Farias, a professional dancer who introduced us to three traditional Peruvian dances—one from the coast, one from the jungle, and one from the mountains. After Pedro demonstrated the moves, the SSTers took to the dance floor to try them out. It made us appreciate just how much of an art form (and a workout!) these dances are.
Our other notable art encounter happened during a recent visit to the home and studio of Victor Delfin, an artist who works in an impressive array of media—oil paints, concrete, wood, metal, textiles. We had the chance to explore his clifftop garden and gallery, and to talk with the artist himself. The following photos from our visit are just a taste of the works we saw during the tour.