Hospital María Auxiliadora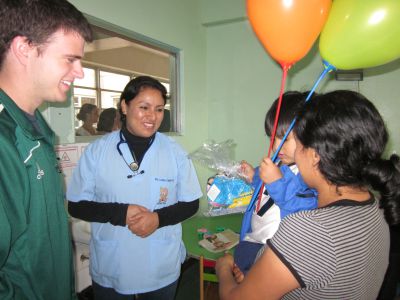 Our recent visit to Hospital María Auxiliadora was a chance to get an inside view of how health care is delivered to poor Peruvians.
The range of medical facilities in Lima is broad: For those with insurance or the ability to pay, private clinics offer state-of-the-art care. Those who have paid into the national social security program through their jobs are eligible to use  social security hospitals. And those who have neither private insurance, social security benefits, nor the ability to pay, have access to hospitals run by the Ministry of Health, such as Hospital María Auxiliadora in the district of San Juan de Miraflores. (Peru's universal health insurance program, currently operating in select regions, will be national by 2013.)
We visited the pediatric unit of this large hospital and brought balloons and small gifts to distribute to the kids. The day we were there the staff was caring for 46 children, including two with substantial medical needs who had been abandoned. We learned the most common problems the staff sees are due to accidents (primarily motor vehicle accidents) and pneumonia. We were able to visit children of all ages, and their parents, and to meet nurses, physical therapists, and the coordinator of pediatric critical care, who invited us into his office and answered our questions.
The hospital opened 25 years ago to serve people in the Cono Sur, the southern part of Lima, and while its infrastructure has not been updated, their patient base has grown dramatically. Locally the hospital serves more than 1.8 million residents, (but people who are referred from outside the local area put that number closer to 2 million).  Statistics on the hospital's website report that only 54 percent of the population it serves has basic services (electricity, water, and drainage), and 45 percent live in poverty, and 15 percent live in extreme poverty.
While it was awkward at times to walk into rooms and meet face to face with parents and sick kids, it was an important opportunity to learn about the health care resources available to the most needy Limeños—especially for the four nursing students and one pre-med student in our group of 16.