Getting to know Villa Maria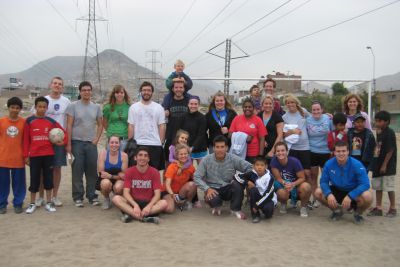 We spent Thursday and Friday getting to know the district of Villa Maria on Lima's sprawling, populous "South Side," which is known as the city's cono sur (southern cone). In addition to working in the community gardens (see the recent post), SSTers enjoyed meeting some of the locals in a friendly-but-humbling fútbol match—even our three players for GC's soccer teams were impressed with the skills of their young opponents.
We also partook in a feast of anticuchos, a Peruvian dish of grilled, skewered meat. Our host, Alicia, prepared them on a grill outside her home, and we tried both the traditional beef heart variety as well as chicken; both were excellent. Like a barbecue back home, the main dish was served with sides of corn (choclo) and potatoes (papas). Unlike a barbecue back home, our dessert was mazamorra, a pudding-like dish made of purple corn, cinnamon, and pineapple.
Before we said goodbye, we took a quick tour of Villa Maria's massive fish market. The market opens long before dawn and is busiest around 5 a.m., when buyers for restaurants and stores throughout Lima make their purchases. By the time we arrived in the early afternoon most of the vendors had closed up for the day, but we were still able to see an impressive selection of seafood—just in time to get us ready for our ceviche-making workshop next week!