Learning by leaps and bounds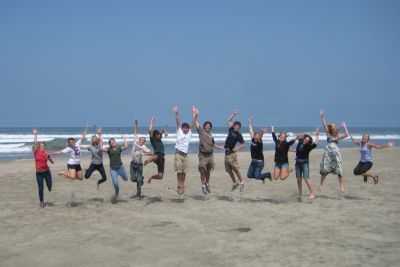 After saying goodbye to their host families, friends, and service sites in Arequipa, Ayacucho, and Chimbote, the Peru SSTers reunited in Lima and boarded another bus to travel 90 minutes down the coast to Kawai, where we had our closing retreat.
Each of the students presented a final project, and we heard about a wide range of topics related to Peru: the effects of international tourism; machismo culture; the evangelical movement in Ayacucho; the status of individuals with mental disabilities; the importance of saints; recycling practices; single motherhood; the significance of dance to youth in Chimbote; the Peruvian Truth and Reconciliation Commission; folk literature in an age of globalization; geriatric health in rural areas; early childhood education; the 2011 presidential elections; and mandatory voting.
The two political projects were particularly timely: We listened to the presentations on election night, just as the results of the presidential race were being reported. It was an exciting evening, and the numbers kept shifting with every update. (Stay tuned for the runoff election between the top two candidates, Ollanta Humala and Keiko Fujimori, in June.)
We were fortunate to have such a beautiful beach setting to reflect on the last three months! It was great to hear some of the many personal triumphs that occurred on SST. Here are just 14:
My patience level has gone way up. Having five younger siblings on service helped me to learn how to take a deep breath and go with whatever came my way.
A week of translating taught me that sometimes you just have to do something to learn how to do it—you can't know always know in advance, and you have to have the courage to go ahead anyway.
Learning how to navigate Lima, and then Ayacucho, and feeling comfortable with both.
Being less concerned about germs. (I'm kind of a germ freak, so that's really a big deal.)
Knowing that when things are hard, they're going to get easier. Some things that seemed so overwhelming to me I was able to feel comfortable with just a week later.
When someone said to me: "Your Spanish is really good—are you from Mexico?"
Just experiencing city living for the first time. To me, even Goshen is big!
Asking for help or directions when I needed to—which is something I usually don't even like to do in English.

Translating a sermon into Spanish, and having people understand.
Pushing myself out of my comfort zone—to try new things, to be more independent, to connect with my host family.
Before coming on SST I liked to schedule all my time and be in control of things—something I really couldn't do here. That's helped me to go with the flow better.

Learning to take a back seat sometimes and do what I'm told.
Learning to improvise, especially on service—how to get where I needed to go, and, once I got there, figuring out something to do, even when there wasn't a lesson plan or much direction.
I learned I could handle working with kids every day for six weeks and not get too overwhelmed.