Where we've been and where we're going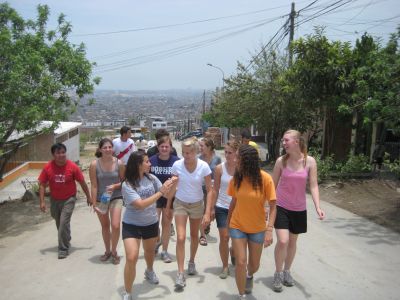 Our travels around Lima took us to three interesting places in the last week: La Inmaculada is a primary and secondary school run by the Jesuits, a Catholic religious order. The school has two distinctive facilities on campus: a zoo (which helps protect endangered species from Peru) and its own water treatment facility. The water treatment facility began almost 20 years ago; it takes advantage of one of the city's major sewage pipes that runs nearby and eventually drains into the ocean. The school siphons sewage from the pipe and sends it through a series of filtering pools. The end result, free of toxins from the waste, is used to water the school's sports fields, landscaping, and a variety of produce grown on the grounds, including avocados, figs, olives, pecans, and oranges. In a city where water access and availability is a serious issue, this innovative system is encouraging to see.
We also visited a summer program for children run by the Anglican Church in a working-class neighborhood in the southern part of the city, where we played with kids who were enjoying the last few days of summer. (The new school year starts here on March 1—just in time for autumn in the southern hemisphere.)
Finally, we visited the studio of one of Peru's best-known artists, Victor Delfín. The students had a beautiful day to explore his unique cliff-top art space/home/studio that features his paintings, sculptures, ceramics, and a terrific ocean view. Delfín's most famous work in Lima is his massive sculpture "El Beso" ("The Kiss") in the city's Parque del Amor. During our visit Delfín was painting in his studio, and he stopped to talk with us for a bit about his art.
The SSTers are anxious to find out exactly where they'll be doing service (which starts next week!)…and they'll find out this Wednesday, when all will be revealed.  Before then, however, they've got a final to take (on Tuesday) and our despedida party to prepare for (on Friday). So they're keeping busy!