service in lucre and Huacarpay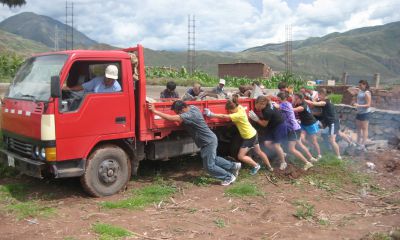 We took some time to get to know the Cusco area though two service projects. We spent last Friday in the small town of Huacarpay helping move rocks for the Cutípa family, which is still rebuilding a wall after last year's floods decimated much of the town just outside of Cusco. (Celestino Cutípa is pastor at Huacarpay Mennonite Church, and the story about his town's experience—as well as information about his church and his family's home—can be read here.) The day we were in Huacarpay the town was celebrating the opening of several dozen newly constructed homes, which local families who were rendered homeless by the floods last January and February were moving into. Many of these people have spent the last year camping or crowding into the homes of friends or family.
On Saturday morning we traveled to the town of Lucre to help run a health education event at Iglesia Evangelica Menonita, where more than 80 children (and some moms) were waiting for us. Our service coordinator, Willy, gave a presentation on intestinal parasites—a common problem in this area—and explained preventive health habits including hygiene and sanitation measures as well as good nutrition. Afterward the SSTers helped distribute anti-parasite medication. (The official recommendation is that children receive this treatment three times a year to combat the problem, but most children do not have access to the medication that frequently.)
We also distributed toothbrushes, toothpaste, and soap to the kids, and instructed them in proper toothbrushing technique. We capped off the morning with some singing (including a spontaneous translation of "Go, Goshen, Go": "Va, Goshen, Va").