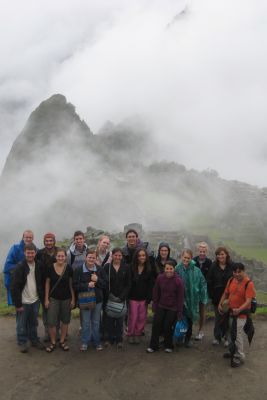 Our visit to Machu Picchu coincided with two interesting anniversaries. First, 2011 is the centennial of Yale University professor (and later U.S. senator) Hiram Bingham's discovery of the so-called "Lost City" (we learned that Machu Picchu was far from lost to the locals, and even appeared on a German cartographer's map more than three decades before Bingham's finding). Two days after our visit, Yale and the Universidad Nacional de San Antonio Abad del Cusco signed an agreement establishing the UNSAAC-Yale International Center for the Study of Machu Picchu and Inca Culture in Cusco. Thousands of artifacts that have been curated by Yale's Peabody Museum in New Haven, Connecticut since Bingham's 1911-12 excavations will be returned home as a result of this partnership. The center will include a museum, storage facility, and laboratory and research area.
Our trip also marked the one-year anniversary of the severe flooding and mudslides that destroyed the track of PeruRail and stranded thousands of tourists in Machu Picchu and the nearby town of Aguas Calientes. While we experienced rain every day of our trip, we saw nothing like the devastation shown in photos from last January and February. We enjoyed our time in the bustling mountain town of Aguas Calientes, as well as the spectacular scenery along the rebuilt train track.
The day of our visit was foggy as well as rainy—but not so much that it stopped SSTers from climbing the steep mountain in the backdrop of Machu Picchu postcards (the same mountain which was obscured by fog during most of our visit and thus not in many of our photos), Wayna Picchu.