Call in the expert witness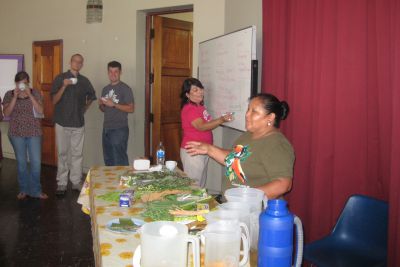 One of the highlights of the study portion of SST is the chance to hear from guest speakers who really help provide a sense of the country. Jim Plunkett, a U.S. expat who's been living and doing business in Peru for more than 40 years, gave us an overview of Peruvian politics and economics. Father Jeff Klaiber, S.J., an Indiana native and history professor who's also been living in Peru for almost four decades, talked about the history of the Catholic Church in Latin America and its influence on Latin American politics. Both did a terrific job of explaining complicated subjects.
We also heard the personal stories of two Peruvians who are deeply involved in the SST program. Service coordinator Willy Villavicencio spoke of moving to Lima from his small village in the mountains in order to attend high school—something that wasn't an option in his hometown. And Alicia Taipe Tello, who has been working with the SST program directors for four years, told her story of moving from the mountain town of Huancayo as a child and settling in one of Lima's pueblos jovenes, or shantytowns, that sprung up—and continue to spring up—around the city to make room for the waves of immigrants from the Peruvian countryside.
Alicia also introduced us to some of the medicinal herbs found in Peru, telling us which herbs help alleviate common symptoms such as headache, stomachache, anxiety, and cough. We enjoyed a taste test of several teas.