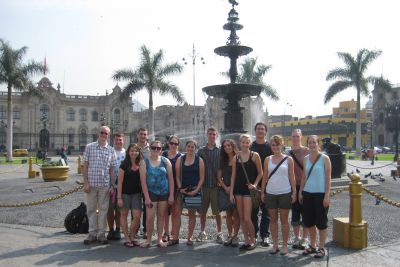 Lima was founded in 1535, and today the metro area has a population of close to 8.4 million. We spent our second day getting to know the historical center of the city, as well as getting a sense of the vastness of the surrounding areas, which have grown rapidly over the past 30 years (In 1981 Lima had just 4.6 million residents, according to the National Institute of Statistics and Informatics).
We took Lima's new public bus system, the Metropolitano, downtown to Lima Centro, where we visited the Plaza de Armas and witnessed the changing of the guard at the government palace. After that we toured the monastery and catacombs of San Francisco, a church complex built in 1674 that, according to our guide, serves as the final resting place of more than 25,000 Limeños who perished before the city's first cemetery was built in the early 19th century. We spent some time exploring the catacombs (but were prohibited from taking photos—you can see some of what we saw on our tour of San Francisco here).
We also made our way to the top of Cerro San Cristobal, a giant hill and pilgrimage site just outside downtown. We were grateful to be there on a clear day so we could enjoy the terrific view of downtown and beyond.
Later, as the SSTers prepared to meet their host families, they studied maps of their neighborhoods and figured out which main streets they'll be relying on to commute between home and school. The prospect of getting around Lima can be a daunting task, but the group remained upbeat—and were encouraged by the fact that their host families would personally show them how to make their commute the first few days.