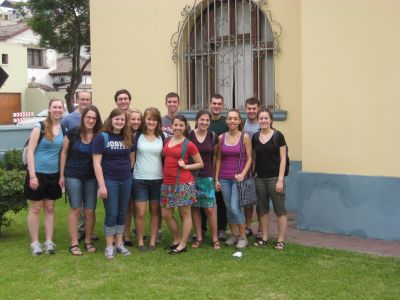 The students started their first full day in Lima with a stroll through the neighborhoods of Miraflores and San Isidro. On the way to Goshen Tambo—the name of SST headquarters and Gary household—they visited their first Peruvian grocery store, Plaza Vea; learned where to exchange money; admired Huaca Pullanca, a pre-Incan ruin in Miraflores; and checked out the bustling Ovalo Gutierrez.
We spent the morning at Goshen Tambo getting to know each other and learning a little about what this semester has in store. The students enjoyed a morning snack of Peruvian fruit, including chiramoya, lucuma, tuna (not the fish!), pepino, granadilla, and maracuya.
By early afternoon we decided it was time to get out and enjoy the sun—and the ocean. We ate a picnic lunch and played some games on a cliff top overlooking the Pacific, and descended the 300-plus stairs to get a closer look.
The first challenge after lunch (or the second, really, after the challenge of ascending all those stairs) was to negotiate a taxi ride to our meeting location for language classes, lectures, and workshops. Students split up into four small groups, and all successfully reached their destination. We spent the afternoon going over the syllabus and covering more survival topics, including health and safety, host family etiquette, food, religion, and transportation.
We finished out the busy day with some traditional Peruvian dishes at dinner, including papas a la Huancayina (slices of boiled potato covered in a spicy sauce of cheese and peppers and garinshed with a hard-boiled egg and an olive), lomo saltado (rice, onion, tomato, hot peppers, and chicken—instead of the traditional beef–served with French fries), and tallarines saltado—a similar dish made with noodles instead of rice.