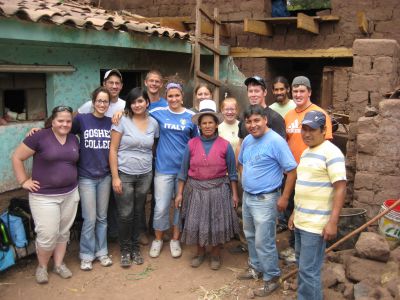 We recently spent a week in the Andean city of Cusco, a short flight and a world away from our base in Lima. Most tourists visit Cusco to explore its archaeological sites—the city was the capital of the Incan empire and is gateway to Peru's most famous tourist site, Machu Picchu. While we did our share of touring (see the next blog post), we also took three days for service projects in nearby towns.
For two days we were in the small village of Lucre (about an hour's drive from Cusco) where we helped rebuild an adobe house that was ruined by floods seven months earlier. We moved a lot of rocks and shoveled a lot of dirt. We met the owner, Clemencia, and a few of her neighbors, and got to learn a little about their lives there.
We also visited the town of Huarcapay, where we helped with a health education program. We distributed toothbrushes, toothpaste and anti-parasite medication to about 70 local children.