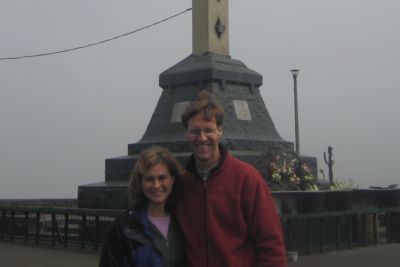 Tucked between the Pacific Ocean on the west and the foothills of the Andes on the east, Peru's capital city, Lima, has nearly 9 million residents—almost a third of the country's entire population. On September 2, 11 more people will call it home: the Goshen College Fall 2010 Peru SST group.
Program directors Kevin and Heather Gary and their children, Evie, Lucas, and Gabriel have been getting to know Lima over the past few weeks and are excited for the students' arrival.
Lima is a fascinating, bustling, and sometimes confounding city that seems to have a little of everything (at least): pre-Columbian ruins and modern skyscrapers; small pockets of astonishing wealth and large swaths of crushing poverty (while the official economy has grown rapidly over the past several years, the underemployment rate in Lima is nearly 50 percent); an unbelievably diverse indigenous cuisine and a surprising number of Chinese restaurants. While more than 80 percent of Peruvians are Catholic, other Christian denominations (including la Iglesia Menonita) and nondenominational Christian congregations are significant and visible parts of the country's religious landscape, as is indigenous religion.  A democracy with elections coming up in early October, Peru has experienced varied and interesting governance over the last five centuries, including military rule, Spanish colonialism, and the Incan empire.
Peru SSTers have much to look forward to during the next 13 weeks. As they prepare to leave home, may they be blessed with fond farewells, safe travels, and warm welcomes. ¡Hasta pronto!