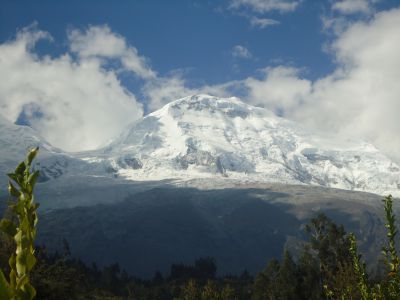 Five students are serving in the foothills of the Cordillera Blanca, or White Mountains, home to the tallest peaks in Peru.
Aaron spends each day helping children at the Bread of Life dining room in Huaraz finish their lunches and clear their tables.  Then he gathers an eager group of kids together to teach them basic words and common phrases in English.
Ingrid and Jake are placed at AWI, an acronym for the Good News Association.  Jake is updating the operating systems and software applications for the staff's computers.  Ingrid assists with a variety of art projects, such as drawing graphics for educational materials for a literacy program developed for native Quechua speakers.  Both recently accompanied AWI staff on a four-day trek to visit communities in the nearby mountains.
Daniel works with World Vision International, promoting education for children and training for parents in rural villages outside Tarica.  His talent at performing slight-of-hand with small red balls has made him a popular performer at schools all over the valley.
Natalie works on a World Vision project further down the valley in a village called Mancos.  She teaches English in several classes at a local elementary school each morning and offers special classes to interested children at the Casa de Mi Abuela (Grandmother's House Lodge) in the afternoons.