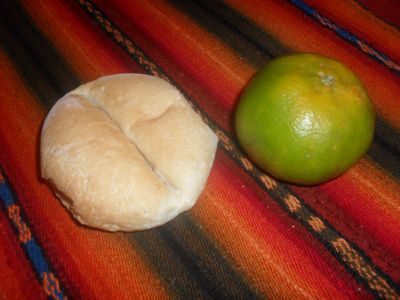 Reflections by Julia Baker:
"It was our second day here at Yurac Yacu and we had a lunch invitation. Nancy, one of the Peruvian women that works at The Lazy Dog Inn, was having a birthday and it was being celebrated with a nice lunch, a feast we were of course invited to even though we had never met Nancy. Crowded into Nancy's dark adobe house we ate together – tin plates piled high with potatoes, a cuy and very spicy sauce. A one-liter coke bottle was passed around and squares of chocolate cake toppled onto the tin plate. For most of the meal I was overwhelmed by the six potatoes in front of me and the spices that made my eyes water and nose run, yet the welcoming smile from Nancy and the clink of forks around the circle felt like such a beautiful community – a communion – that all I could do was smile back.
The past summer I really got into the topic of food – learning to make homemade bread, getting into a phase where I checked out different ethnic food cook books at the library and trying my hand at Indian nan bread or middle eastern falafel. Not only did I become interested in the art of making foods but the power and joy in eating and preparing food in community. One of the quotes that fueled my food craze came from the book Take This Bread, a spiritual memoir of a woman finding God while breaking bread when she started a food bank out of her church (literally off the alter) in San Francisco. The quote: "The sharing of food was an actual sacrament, one that resonated beyond church and its regulations, and into a real experience of the divine."
In all my food thinking over the last year I had not thought a lot about the cultural implications of sharing food until these months in Peru. For as much as food has held its challenges here – in the quantity given or how the food settles in my stomach – it has also been the center point of many gifts. The meals around the kitchen table with my Lima family held wonderful times of connecting and conversation. I loved that we would sit and talk over a cup of anis tea long after the plates were cleared and late into the night. Over the sharing of food, community was built.
Every night that there are guests here at the Inn women from the community will come up and help to cook. Over the chopping of potatoes, peppers and carrots I have built such lovely relationships with these women, a community is created as we create delicious soups, stir fry and banana bread.
A few days ago during snack time with the morning class of 1-6 year olds I sat down on a mossy rock to talk with a cluster of girls who were eating their pan and fruta. Before I had even fully sat down, grubby hands were reaching out to share with me – one a grape offering, another a slice of mandarin. Estrella, one of the older girls, reached into her bag and offered me a little roll of bread. At first I felt bad. I didn't want to be taking their food. I am well fed up at the Inn and who knows what food realities they live with. But then, how could I refuse such a gift for "Profesora Julia"? So we broke bread together, splitting the pancito in half and smiling as sweet crumbs fell into our laps. Over the sharing of pan, community was created.
Now a new quote will fill my journal…
"It wasn't as much about food as it was about sharing with one another, leaving no one out. It took care of those who didn't have anything by including them in the group. Because everyone shared, we were not aware of the 'haves and have-nots'. They were covered by the community." (Sarah H. Lanier, Foreign to Familiar, p. 60)"