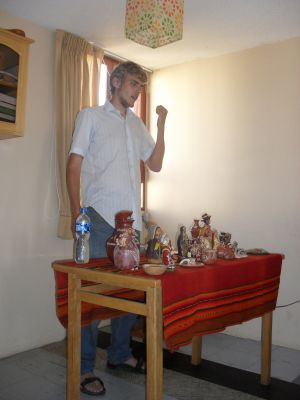 Our students returned to Lima this weekend after finishing their six-week service terms, a happy reunion.
While living in the provinces each had an opportunity to research a topic of interest, using personal interviews as their primary source of data.  We began the weekend with a stimulating day of research presentations at Goshen Tambo.  The titles of their presentations reveal a wide variety of topics:
Rainforest Fruit Production
The Peruvian Mennonite Movement
Mantas
Peruvian Seafood
Fiber Arts
The Shining Path
Informality
Ceramics in Quinua
Quechua: Examining Inherent Theatrical Elements
Remembering Terror
Motherhood in Peru
The Prerequisites of Technology
Cuzco's Climate Change
Parenting in the Andes
Inca Kola v. Oro
Social Services in Chimbote
How Peruvians View the U.S.
The next day we celebrated the completion of service with a trip to Islas Palomino.  The sky was blue, the ocean bluer still.  We rode huge swells between the mainland and imposing San Lorenzo Island, learning from our guide about a prison for terrorists that once stood on a neighboring island.   After navigating around these islands the boat's captain headed west toward Islas Palomino — Population: 1,000 (or more, sea lions).  Some accepted the invitation to get a closer look at these fascinating creatures in the fresh Pacific waters, relatively warm due to both the season of the year and the El Nino effect.  Others enjoyed the view from the boat, soaking up the sun and the amazing sight of a multitude of mammals perched atop a rocky island so close, yet so far, from metropolitan Lima.