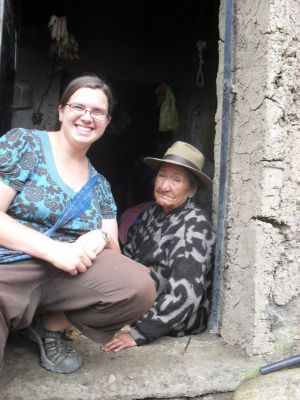 There are seven students serving with four organizations in the greater Huaraz area.
Sarah and Julia are volunteering for Andean Alliance, a nonprofit organization started several years ago by Diana and Wayne, owners of the Lazy Dog Inn.  Each morning our students leave the comfort of the Inn and walk a bumpy trail to a nearby community of Quechua-speaking farmers.  They work with preschool age children, promoting early childhood development among a population of kids that receives relatively little physical, intellectual and emotional stimulation.  In the afternoons, they devote their energy to teaching English and playing games to help further the development of an eager group of school-aged children.  Julia and Sarah's enthusiasm and love of learning are contagious.
Adriel and Connor volunteer for AWI, an acronym for the Good News Association in the local dialect of Quechua.  The project is supported by Wycliffe, a North American nonprofit dedicated to translating the Bible.  The organization recently finished translating the New Testament into Quechua and is currently working on the Old Testament.  This work requires intensive use of computers and specialized software, which is where our students come in.  Connor and Adriel have the gift of diagnosing computer problems, finding solutions, making upgrades and installing new software.  They have been given the task of helping staff  members at AWI learn to use new programs, a challenging assignment in a culture that often values tradition over efficiency.
Callie and Erika volunteer for Arco Iris (Rainbow), an orphanage founded by a Spanish doctor named Maria Jesus and supported by the Alliance Missionary Christian Church in Europe.  Callie and Erika work two different shifts each week.  On some days they begin at 7:30 am, helping to get the children ready for school.   They assist with cleaning and preparations for the midday meal, then eat with the kids when they return home from school.  On other days they begin after lunch and spend the afternoon helping with homework, assisting with after school activities and helping the little ones get settled at the end of the day.  One of their challenges is to offer culturally-sensitive support to Peruvian staff with differing parenting styles.  Erika and Callie have experience working with children and this assignment offers a chance to give their time and attention to those who really need it.
Krista volunteers for World Vision, a North American organization that promotes development in rural communities throughout the Andes.  On the day we visited, Krista helped organize a community-wide birthday celebration for children sponsored by donors in Canada.  She recorded family information for each participant, assisted staff with logistics and spent her free moments interacting with children as they arrived at the community center, anxiously awaiting the arrival of clowns, balloons and birthday cake.  Krista encounters many Quechua speakers on these visits to the farming communities far from Huaraz and has learned several dozen words and phrases that she finds useful during her interviews.  Her initiative, positive attitude and natural ability with children have been real assets as she relates to new families each day.