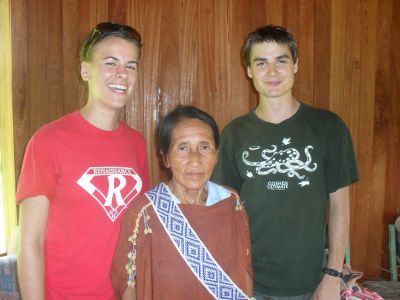 Kelly and Micah volunteer for a fair trade company called Chanchamayo Highland Products.  Founder Jose Jorge grew up on a farm and understands how difficult it is for agriculturalists to support their families and provide a better life for their children.  He pays higher prices than most other buyers by insisting that those who produce his coffee beans and rain forest fruit do so sustainably.  But he can only buy as much as he can sell, and thus far his customers are limited to a small segment of the certified organic market in France and Germany.  One of his biggest worries, seldom verbalized, is that desperate farmers will soon turn to the production of coca leaves, a strong temptation given its high price.
Mr. Jorge believes that the families who work the land in Chanchamayo prefer to produce coffee and fruit and will continue to do so if companies like Highland Products can find buyers in the northern hemisphere who are willing to support them.  He hopes that the Goshen College students who work with him can help him reach English-speaking consumers, telling the story of his company and describing how his product line promotes economic, social and environmental sustainability for the region.
Kelly and Micah have been involved in many activities since they arrived in La Merced.  They have translated a brochure from Spanish into English, developing text that will help tell the company's story on its new website.  They have developed an educational presentation for local school children to explain the phenomenon of climate change and what can be done locally to help solve the problem.  They have spent time with company staff, drying fruit, roasting coffee and making sauco preserves (tastes like a cherry crossed with a grape).   And, at their own initiative, Kelly and Micah have begun teaching English to staff who regularly interact with foreign tourists and wholesale buyers.