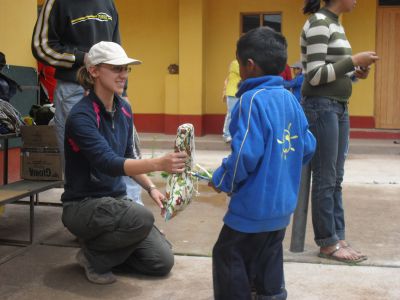 Sometimes you just know you are in the right place, at the right time.
When heavy rains and flooding in the Cusco area arrived in late January, we were forced to cancel our plans to visit Machu Picchu.  But the disappointment this brought was little compared to the devastation suffered by those living in the low-lying areas of Lucre and Huacarpai.
From the disaster emerged a new service opportunity for three of our students.  Tori, Joe and Jeff are working with pastors and volunteers from the San Jeronimo Mennonite Church to help residents of these farming communities clean up the mess created by the flood.  Some days this involves digging.  Other days it involves helping to dismantle a destroyed home to salvage building materials or recover valuable contents.  And everyday it involves bringing a smile and a sense of hope to the people whose lives have been affected by the unprecedented rains high in the Andes.
A highlight of our visit was a day with sixty children in the rural community of Lucre.  The first day of school had been canceled due to the flooding.  We arrived at a kindergarten and began inviting children from the community to come learn about health.  We began by dispensing anti-parasite medicine donated by Camina de Vida (Road to Life) church in Lima.   Then the kids learned about parasites, what they do inside your body and how to avoid them in the future.  Afterward the children came back outside and the students distributed new toothbrushes along with instructions on how to use them.  Finally, we distributed hygiene kits — cloth bags hand sewn by members of Waterford Mennonite Church in Goshen filled with donated toothpaste, soap, shampoo, wash clothes and combs.
The sun shined as we finished handing out the bags.  We watched the children file out of the school yard in two's and three's, clutching their bags and every so often letting a smile peep out between their lips.