A Day in the Life of a G.C. Nicaragua SST Student on Service…
Service site visits began this week starting with Aaron Graber.
SAN JUAN DE ORIENTE:  Aaron is situated in San Juan de Oriente-a small town full of artisans specializing in pottery and ceramics.  Below are some excerpts from Aaron's SST journal entries. Upcoming blogs will feature other students' service experiences.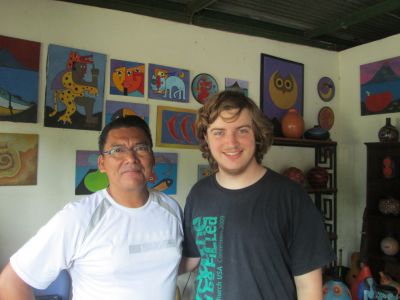 JOURNAL EXCERPTS BY AARON GRABER:  "My service here has been split between 2 different locations here in San Juan de Oriente:  the local health center, about a 5 minute walk from my house, and a pottery workshop, which is a part of the house I stay in. From about 8am-12pm I work in the health center and for the rest of the afternoon I work in the ceramic workshop.  A typical day has involved me getting up around 7am, eating breakfast, and going to the center by 8am.  There I usually help the nurses with whatever needs to be done such as grabbing patient files for arriving patients, preparing coolers with vaccines, administering adult vaccines, taking blood pressure, preparing gauze for patients, and helping keep records.  I have also observed doctors during consultation and nurses administering vaccines to babies and talking to pregnant mothers.
Working in the ceramic shop varies from day to day.  Right now the shop is not making a lot of ceramics due to the festivals and upcoming festivals this next Tuesday to Thursday.  But on the days I have worked, I have practiced using the wheel-to learn how to use a manual wheel.  I have applied slip to pots, smoothed over the slip layers to be covered with designs, and have prepared 2 pots with designs.  As my skills improve on the wheel I hope to be able to fully create some pieces from start to finish on my very own."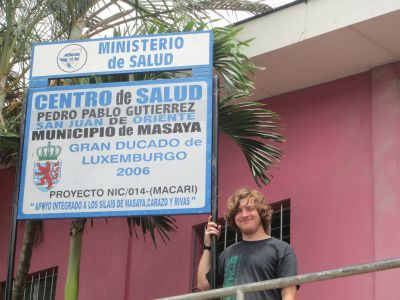 "One definite highlight so far being here in San Juan de Oriente has been how close we are to Laguna de Apoyo.  To the vista it is only a 10 minutes motorcycle drive. When I went, it was dark out and Nicaraguans can get in for free and being the guest of a Nicaraguan I was allowed in as well. At night you can see the lights of Granada in the distance while a band plays music to the sounds of others talking, laughing and having a good time in general. It made me glad that locals could visit their touristy site for free after hours and enjoy the beauty of the Laguna as well."