A Trip to a Birthday Party
A JOURNAL ENTRY WRITTEN BY SOPHIA SEARS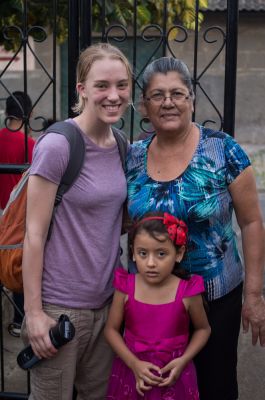 One enjoyable time I've had with my host family so far is when I went with my mom and niece to a birthday party of my aunt. The relatives there were very welcoming and they all made efforts to ensure that I was having a good time. In these types of situations, it always makes me happy to see how much the people of Nicaragua want to share their country and culture with me.
For example, I was asked to try all the different foods and drinks present at the party, many of which were things I've never tried before. The people at the party were all very high energy and their mood was infectious. I was asked to dance several times and tried my best to not look like a fool.
I had a great time meeting new people and trying new things. I could see that the people there all wanted me to have a good time and that is what really made it so enjoyable for me. I appreciate that my family keeps including me and trying to communicate with me even when I am struggling with Spanish or am in a bad mood. My host family has definitely given me several enjoyable experiences here.