El Lagartillo – Alejandro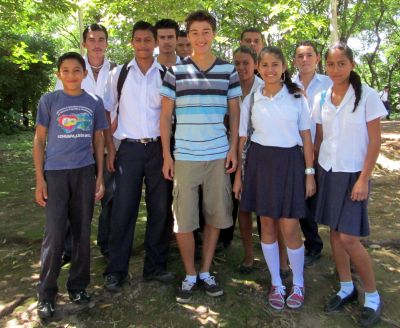 Alejandro is working in this small rural community that the whole group had visited in early June.  After the 20-mile race on Sunday (see earlier post) Maria and Doug accompanied Alejandro back to El Lagartillo, about a six-hour trip north of Jinotepe.  Maria and Doug's daughters, Jessica (who did her SST in Senegal) and Juni, and Jessica's fiancé Peter (who did his SST in Peru), also came along for the visit.
Alejandro works with the secondary school's English teacher, Baltazara, sometimes assisting with pronunciations in class and sometimes giving classes himself.  Larger classes are given in the school building, while smaller classes are often given in special bamboo huts with white boards.  The huts were built for the Spanish school in the community; typically 2-3 foreigners are present in the community's Spanish school learning the language while also experiencing campesino life.
When we arrived, the students were having recess, many of them playing volleyball.  Others were enjoying a favorite mid-day snack, posicles (po-SEEK-les), frozen milk-banana-sugar mixtures in a plastic bag.
In Nicaragua and the other Central American countries to the north one would only expect to find a secondary school in a sizable town with several thousand residents.  This contributes to only about half of all children who finish primary school going on to secondary school.  For example, San Onofre (where two other GC students are teaching) is six times larger than El Lagartillo, but has no secondary school.  The nearest one is many miles away, so that attendance requires substantial walking and money for bus rides, which is the reason only a handful of kids in San Onofre can go to secondary school.
We asked Baltazara how their small community (25 homes) came to have a secondary school.  Key factors included the determination of several parents (including Baltazara) to volunteer for several years until the government agreed to pay salaries, neighboring communities that send their children to El Lagartillo's primary school also started sending their kids to the secondary school, the community had to be persistent with the government, and in 2006 a new government was elected that placed more priority on rural education.  When asked why the community has such determination to educate their children, they said this was a priority for cooperative's founders, including those who were killed by the Contras.
For lunch we went to the home where Alejandro lives with his host mother, father, and little brother.  Alejandro worked in the kitchen helping his mom, Yajaira, who is a volunteer teacher in the pre-school.  Their son, Monchito, came home from school and joined us.  Juan Ramon, the father, is the drama teacher in the nearest town, Achuapa, and directs the El Lagartillo children theater group we saw perform last month.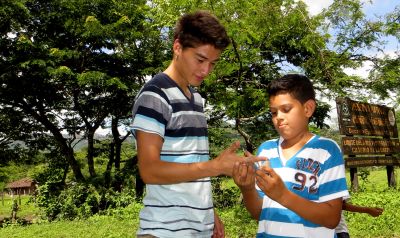 On the street near Alejandro's home three boys were playing a game with tops that requires launching a top so that it hits an opponent's top but remains spinning, including while the player scoops it up into his palm.  Alejandro said he has tried to learn from the boys, but doesn't quite have the knack of it yet.  His little brother Monchito gave him a lesson, but Alejandro needs more practice yet.  Peter and Juni also tested their skill in tops, but apparently there is a long, steep learning curve.  The boys said that typically kids start playing when they are four years old.