Volcán Mombacho Service Visit — Luke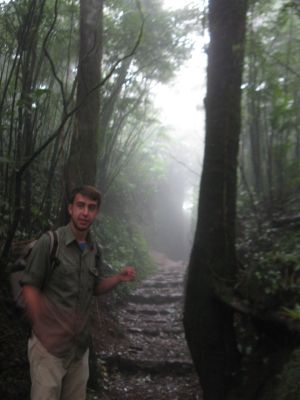 For our last service visit, we headed back to Volcan Mombacho, where the group had gone for a field trip earlier in the semester.  Luke is a short 30 minute bus ride away from Jinotepe on the road to Granada but works mostly on top of Volcán Mombacho.  He has been helping and participating in a variety of activities.  At the park entrance there is an orchid display that the park is trying to get finished as well as a butterfly garden.  Part of finishing the orchid display includes finding the orchids on the mountain and then making informational cards in English and Spanish.  Luke explained how the orchids at the top of the volcano are in the cloud forest and therefore do not survive at the lower elevation of the display, which is a dry forest.   It is also hard to identify the orchids when they aren't in bloom.  Luke designed and completed 25 informational cards on the orchids they have already identified and left a template for the park rangers so they can complete the orchid display cards after he leaves.  This has helped Luke learn a lot of the common names and scientific names in Spanish.
When Luke isn't working with the orchids and catching butterflies, he is at the top of the Volcano learning from the local park rangers.  He hikes the 4km Puma trail generally once a day and learns about the flora and fauna of the cloud forest.  He has been able to help the guides with their English and in return they are teaching him a lot of Spanish.  The director asked Luke to take us on a guided walk on the 1.5km crater trail.  Luke told us about the volcano and was able to point out orchids, insects, butterflies, and plants.  We experienced his excitement as he told us about everything he has learned.
Luke lives a short walk from the base of the volcano.  He has started teaching English four evenings a week to community children and adults. As we walked him home, several people greeted him along the way – he is becoming known in the small community of El Guanacaste.  His host family has enjoyed having him in their home.  His host father is a former guide and his host mother currently works as a guide on Volcán Mombacho.  Luke enjoys nightly conversations with his host father and mother and enjoys playing with their 16 month old son.