Jinotega Service Visit — Alisha and Arielle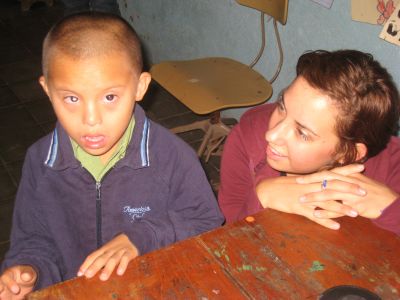 After visiting students in and around Matagalpa, we enjoyed a scenic 1 ½ hour ride to Jinotega, the City of Mists.  Nearly 100 years ago, Nicaragua's German immigrants brought coffee to the mountains, and this region is the site of most of Nicaragua's coffee farms.  More recently, Jinotega experienced some of the heaviest fighting during the revolution and Contra war in the 1970s and 1980s.
After our arrival on Sunday, we met Alisha and Arielle for a good cup of coffee at a small local coffee shop first and then met each of their host families.  Arielle's family is large, and everyone helps out in the family's pulperia. (small store)  Arielle has been able to increase her Spanish vocabulary by working in the store.  Alisha lives on the opposite end of town and spends time visiting with her host family and playing games with her host siblings.  Both students are enjoying their families.
Alisha and Arielle are working with an organization called Los Pipitos.  This organization works with children, youth, and adults with various disabilities and special needs including autism and Down's syndrome, and is run with the help of community, government, and international support.  Los Pipitos has a school for children and youth to attend in the morning and then an after school activity center.
On Monday morning we met Arielle and Alisha at the Special Education school.  There is also a large deaf community that holds their classes at this school.  Alisha helps in the classroom that works with infants through children age 6.  They use physical and sensory therapy on the children and teach the mothers how to do the therapy with their children at home.  The morning we visited, there were no children when we first arrive, probably due to the colder weather and the rain, which seems to affect attendance.
Arielle works in the first grade classroom.  Her students range from age 6 to 16.  She helps the teacher keep the students in their chairs, doing homework, focused on the current activity, and other tasks that come up.  She has also been studying a Nicaraguan sign language book and interacting with the deaf students at the school.
Each day, after enjoying lunch with their host families and maybe a short nap, they go to the office of Los Pipitos and help with afternoon activities.  Each day is a different activity.  They help with dancing, painting, physical education, and crafts.