Matagalpa Service Visit – Kyle and Allison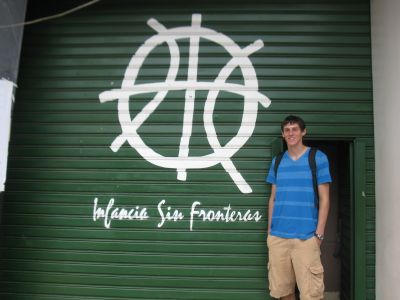 The department (state) of Matagalpa is the most mountainous of Nicaragua, and Matagalpa City, where Kyle and Allison are living, is true to form.  Walking the streets of Matagalpa, you will realize that the city is spread out over a valley, but also spreading up the mountains surrounding it, making for some very steep streets.  Nicknamed La Perla del Septentrion (The Pearl of the North), Matagalpa's real pearl is a red, ripe, coffee bean. The production and harvest of coffee is an essential part of the region's, and the nation's, economy.
Neither Kyle or Allison is working directly with coffee, however.  Kyle works with Infancia sin Fronteras, a multi-faceted organization working with children's issues throughout Latin America.  In Matagalpa, one of their areas of work is the "Creativity Workshop", which provides after-school programming for students.  Classes in dance, painting, sewing, and piñatas are offered.  Since children only go to school for 1/2 day in Nicaragua, programming is offered in both the morning and afternoon. Kyle works with the piñata classes, helping to make piñatas, instructing new students, and interacting with the students.  The finished piñatas are either sold at market to support the organization, or given to schools who have successfully participated in an Infancia sin Fronteras program.
Kyle lives with his host family in a busy commercial district in the northern part of Matagalpa, near the main bus station.  His family owns a hardware/agriculture store, and his mother bakes cakes for special occasions as an additional source of income.
Allison is working with a community health center/nutrition center outside Matagalpa, about a 15 minute bus ride each way.  In the morning, she helps out at the health center, which provides basic health care and dental services to the community of San Ramon.  In the afternoon, Allison heads upstairs to the residential malnutrition center, which treats children with malnutrition.  Children stay at the center until they are well enough to return to their homes.  Allison plays with the children and helps out the staff as they work with the children.
Allison and Kyle have discovered a modern, air-conditioned coffee shop in downtown Matagalpa where they enjoy going to hang out and taste the coffee that the region is so well known for.