Bálsamo Norte Service Visit – Brook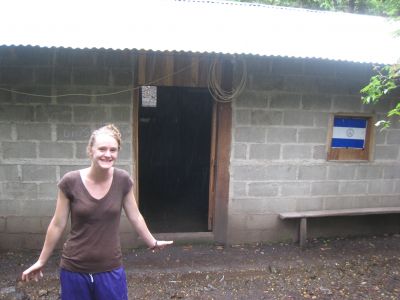 Brook is serving in a community about 22 km outside Matagalpa called Bálsamo Norte.  We literally traveled over the rivers and through the trees on a rutted, rocky road for about 45 minutes to reach Bálsamo.  Brook is working through CEPAD on community building.  This has included doing some farming with her family, learning to cook with her host mother, helping in the primary school, and teaching songs in the community evangelical church.  She also has made an effort to get to know some of the women in the community, and is enjoying hearing their stories about their life experiences and life in the village.
Brook is also learning about gender issues, as her work in the fields has been discouraged while her work in the school and in the kitchen has been encouraged.  Life in this area revolves mostly around farming, as there are no stores or other industry nearby, and Matagalpa is a 2 hour bus ride away, unless you are lucky enough to own a 4-wheel drive vehicle to navigate the road on your own.
We visited Brook in her small family home which she shares with her host mother, father, brother and sister.  Chickens were running freely in the yard and sometimes in the house, and one became our lunch for the day.  We also visited an older single woman in the community who Brook tries to visit daily and has started calling her abuela (grandmother).