León service visit — Marissa and Steph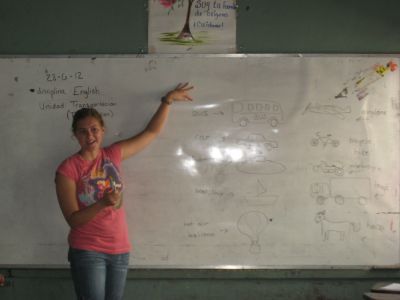 Leon, about a 2 hour bus ride from Managua, was the next stop in our circuit of service visits, where we visited Steph and Marissa.  Leon is a historic city, the site of many beautiful cathedrals, and a former capital of Nicaragua several times when the Liberal governments were in power.  After 1852, the Liberals and Conservatives agreed that Managua would be the capital of Nicaragua no matter who was in power, but Leon continues as the largest city in the Nicaraguan northwest.
Steph is working at Institute Marcos a Mendieta, a primary and secondary school run by CEPAD. She mostly works with the 3rd and 5th grade class, but also helps the English teacher as he teaches to various levels of students.  Vocabulary words about various types of transportation was the topic the morning we visited.  The English teacher drew pictures of types of transportation on the board, then Steph wrote the English words on the board and helped the students pronounce them.  Since there are no textbooks, the students spent most of their time copying the pictures and words into their notebooks.  Steph also helps with physical education, especially encouraging girls to participate instead of sitting and watching the boys play.
Marissa is working at a Centro de Salud (health center) located where the hospital viejo (old hospital) used to be.  All that is now left of the old hospital is the front of the building.  The health center buildings are scattered on the property around the old, crumbling building.  Marissa spends her time with nurses focusing on pregnant children, infants and young children, and helps wherever needed, including taking blood pressure, weight, and getting charts for the nurses.
Steph and Marissa live next door to each other on a walking street, meaning that there is a sidewalk, but no road wide enough for cars to drive on.  Since their schedules are different, they usually see each other only in the late afternoon or on the weekends.