Managua Service Visit-Jennifer and Hannah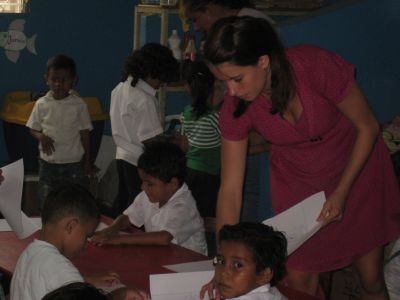 The next stop on our service visit schedule was another day trip into Managua to visit Hannah and Jennifer, who are both working in the area around Barrio Grenada.
Jennifer is working at Escuela Gabriela Mistral, a busy primary school in Barrio Grenada.  She assists the preschool teacher, Raquel, each morning from approximately 7am -11am.  The classroom is a place of lots of activity and noise.   When we arrived the students were learning about the Nicaraguan flag – the colors (blue and white), and what is included in the center of the flag (5 volcanoes), even while recess was going on for older children outside.  Jen helped distribute a drawing of the flag for the students to color.  Since there is no copy machine, Jen had made 30+ copies of the worksheets by hand.  She is now very familiar with the Nicaraguan flag!  She helps out in the classroom wherever needed and is working to teach some English to the preschool students.
Jen also teaches English to two teachers at the school several afternoons a week, and is taking a baking class at the community center with her host sister, where she is learning to know others in the community, especially the parents of some of her students.
Hannah is also living in Barrio Grenada, and works at the nearby Centro de Salud Pedro Altamirano.  Hannah has jumped in with both feet since her first day on the job and is working through a rotation of a variety of nursing jobs during her time there, including emergency room, wound care, prenatal, gynecology, and elderly/chronic diseases.  This is a large, busy health center in Managua working with a wide variety of patients, so Hannah is staying busy and learning a lot.
Both students are doing well, enjoying their service and host family experiences, and learning to adjust to the heat in Managua.