Matagalpa – land of coffee and chocolate!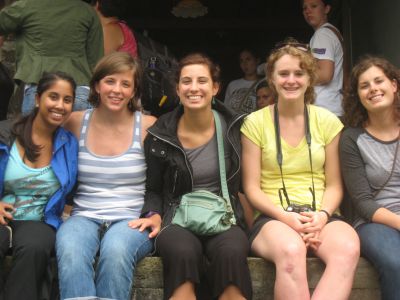 Matagalpa is a beautiful northern Nicaraguan town, set among the mountains well known for being the perfect climate for growing coffee.  We left Esteli on Saturday morning and drove to Vicente Padilla's farm north of Matagalpa.  Vicente runs an organic coffee farm on five manzanas (one manzana = 1.68 acres).  Before exploring his farm, we heard his story of peaceful resolution of his conflict regarding land ownership of his property.  He bought the property about 15 years ago, but a former owner tried to come back and reclaim it as theirs.  After years of legal battles, threats, and international recognition and support, the situation was finally resolved in Vicente's favor.  He now has an inviting small organic farm growing coffee, bananas, and many other fruits and vegetables.  We all appreciated the opportunity to taste and buy some high quality Nicaraguan-grown coffee and walk through part of Vicente's farm.  (Ironically, most students are served instant coffee by their host families).  On our walk we saw a sloth hanging out in a tree, as well as the guardabarranco, the Nicaraguan national bird.
After lunch at Selva Negra, a resort/restaurant near Matagalpa, we headed into town to Castillo de Cacao (Chocolate Castle).  We took a tour of this chocolate factory, learning how the chocolate goes from bean to chocolate bar, and enjoyed tasting some fresh chocolate at the end of the tour.  Chocolate bars were also purchased for personal consumption, gifts for Nicaraguan Mother's Day, and gifts for friends at home – maybe one will be for you!
We checked into Hotel Alvarado, then had free time to explore Matagalpa for the rest of the afternoon.  After supper there was more time for relaxing, journaling, and playing games.
On our way out of town the next morning we stopped at the Matagalpa cemetery to find Ben Linder's grave.  Ben Linder was a United States citizen who was living in Nicaragua and working on hydroelectric projects with local people when he was killed by Contra soldiers on April 26, 1987 near El Cua, north of Matagalpa.  His death helped open the eyes of the United States government to what was really happening in Nicaragua through their funding of the Contras.  The 25th anniversary of Linder's death was celebrated this year.