After an early morning Spanish class, the group set out for a four-day adventure to Matagalpa and Esteli. Unfortunately, due to illness we were short two students, Jacob and Hannah, as well as Lisa and Geneviéve, who stayed back to nurse the students back to health.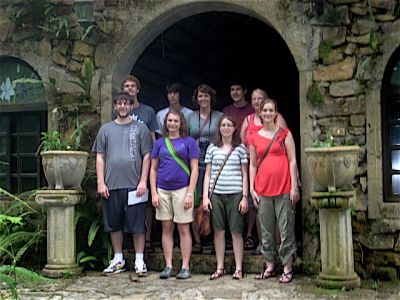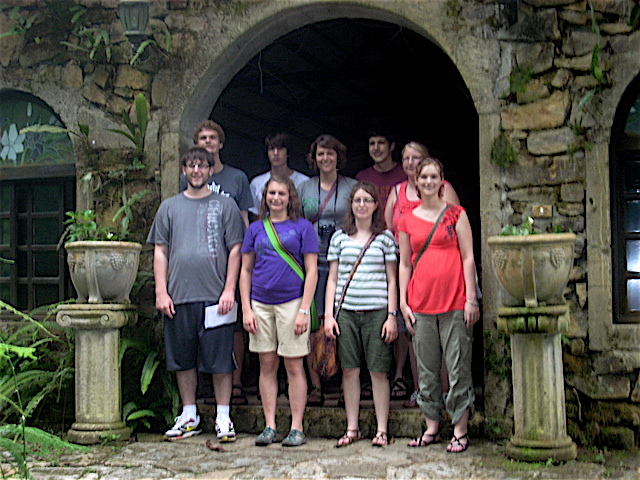 Our first destination was an organic coffee farm owned and operated by Vicente Padilla (the farmer, not the major league baseball player). Vicente and his family live and work on the farm and have turned their small plot of land into a thriving organic operation. All of the coffee and the entire production process is done right there on the farm. Vicente said with pride that the only part of the coffee merchandise that is not produced by hand on the farm is the plastic bag they sell it in. Even though it was raining, the students had a chance to take a tour of the farm, where we saw many of the other products produced on the farm as well as several sloths who reside in the trees. Vicente and his family have gone through a long and at times dangerous dispute with the former owner of the land. You can read and learn more about Vicente's struggle and eventual triumph at http://www.envio.org.ni/articulo/3355.
From the farm we went to nearby Matagalpa, where after a nice meal at an Italian restaurant, the group settled into a hotel for the night.
The next day we took some time to explore the city of Matagalpa as well as visit the gravesite of Ben Linder. Linder was a young North American who moved to Nicaragua after college in order to help poor Nicaraguans in rural communities. While living in Nicaragua, Linder used his talents as a clown and juggler to entertain and lead children into vaccination clinics. He also used his engineering skills to design a hydroelectric plant that brought electricity to the town of El Cuá, located in the mountains north of Matagalpa. After the success in El Cuá, Linder then moved further north to the more remote town of Bocay to build an even larger plant, which unfortunately became a target for the U.S.-backed Contras in that part of the country. In 1987 Linder was killed during an ambush of the plant. You can read more about Ben's life and work at http://www.liberationtheology.org/library/ben_linder_remembrance.htm.
For lunch we visited Selva Negra, a unique and beautiful German resort and restaurant nestled into the mountains of Matagalpa. The students had time to wonder around the grounds and explore the various hiking trails that lead through woods filled with beautiful flowers, trees and monkeys. After our meal, the journey then continued on to Estelí (see the next blog entry for more about Estelí).