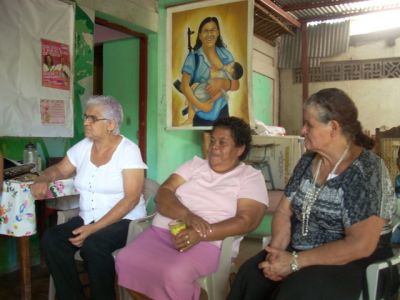 Our first stop in Estelí was Funarte, a nonprofit nongovernmental organization built around the idea of giving young children a chance to express themselves through art while learning how to work together to create murals. Children have free weekly painting workshops and work in groups to design and paint murals throughout the city. The group learned about the history and operations of Funarte from both the current director and a former art student who now works for the organization. As we drove through the city, we saw the work of Funarte in the beautiful, brightly colored murals found on almost every street. We ended the evening with a meal at a well-known Cuban restaurant and then a bit of nightlife and dancing.
On our second day in Estelí we were greeted by a vibrant parade and art festival around the central park. It was a joy to watch and hear the bands and dancers march past as we made our way to our next lecture. The merriment of the street festival however did not last as we made our next next stop at La Galería de Héroes y Mártires.  La Galería is a museum dedicated to the thousands of people killed during the Revolution and the Contra War.  While there we heard the stories and testimonies of three mothers whose children were tortured and killed during the Revolution and the Contra War. The content of this lecture was by far the most difficult the students have heard thus far. The mothers tearfully recounted many graphic and horrific details about the violent deaths of their sons and daughters. While we knew that this information would be difficult for the students to hear, it is an important part of understanding the country's history and struggle for freedom and self-determination.
After such a heavy morning the students had some time to explore the city and enjoy the art festival before visiting a paper making cooperative named Las Mujeres Ambientalistas [women environmentalists]. What is unique about this co-op is that it is run by women and was created for women who were either abused or on their own and needed a safe place to work. Using recycled paper and organic matter collected throughout the community, the women create products such as journals, bookmarks, photo frames and cards, which are sold in the shop on the property or at other locations such as local art festivals. The students were given a brief history of the co-op and then a demonstration of the paper-making process. From there we headed back to the hotel for dinner and relaxation.