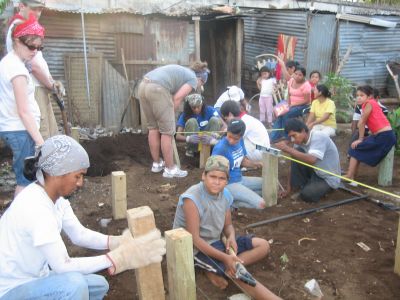 After a full day of orientation, the students set out on a two-day service project in connection with an organization called Un Techo para mi País.  Techo is an organization that works with destitute families to help build them more sustainable housing.  The program, organized and run by university students, requires the family to be involved with the construction so that they can be a part of the process as well as give the volunteers a chance to make a connection with the family.  Our goal was to build two houses in two days in an area called Barrio Grenada.  Barrio Grenada is an extremely impoverished neighborhood in Managua where most people live in homes made of scraps of tin or cardboard.  
    We must say, we were very impressed with the way our students rolled up their sleeves and jumped right in.  As you can see through the pictures, it was hot, hard and dirty work, but not once did we hear students complaining or fussing.  While working, the students had a chance to practice their Spanish with the other Techo volunteers as well as with the family and other neighborhood kids.  The process was very long and slow at times, so the students had opportunities to play with the neighborhood kids who were eager to spend time with them.  It was a long two days, but by 6 pm on the second day, we had our two houses finished.  The only unfortunate part of the day was that both of our cameras died before we could get a final shot of the families with their new houses.  The Techo people, however, will be sending us a photo which we will upload at a later time.
      During SST orientation back in the states, we talked to the students about the idea that at times, their service assignments might be more or "being" rather than "doing".  By this we mean that there may be times when just being a part of the daily life of their Nicaraguan hosts may be all they do that day.  This project, however, definitely gave the students a chance to do rather than just be and we know that had a great impact on the students.
Co-leaders Lisa and Jen