Wednesday, November 7, 2007
Anabaptist experts study pacifism in "Mennonites, Amish and the American Civil War"
GOSHEN, Ind. – A collaborative work by two experts in Anabaptist studies examines the deadliest war in America and provides a window into the moral dilemmas of pacifists during military conflict.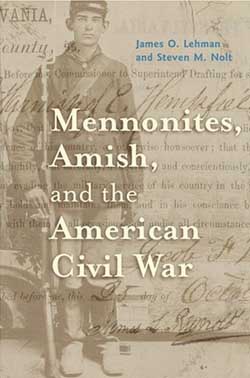 The new book, "Mennonites, Amish and the American Civil War" (published by Johns Hopkins University Press, Baltimore), by Professor of History Steve M. Nolt of Goshen College and James O. Lehman of Harrisonburg, Va., describes the various strategies used by the sectarian religious groups in responding to the North-South conflict and the effects of war on these communities.
Nolt is co-author of "Amish Grace: How Forgiveness Transcended Tragedy" (Jossey-Bass, 2007), "Plain Diversity: Amish Culture and Identities" (2007) and "Amish Enterprise: From Plows to Profits" (2004), both published by Johns Hopkins University Press. Lehman is librarian emeritus at Eastern Mennonite University, archivist for Virginia Mennonite Conference and the author of nine congregational histories and a book on 20th century Mennonite revivalism.
According to Nolt, "Historians are only beginning to look at the role of religion and the Civil War, and most studies highlight the way religion legitimates fighting, and we wanted to call attention to some of the Christian pacifists in this war."
Integrating the most recent Civil War scholarship with little-known primary sources and new information from Pennsylvania and Virginia to Illinois and Iowa, the book pieces together a unique perspective of the "home front" experience by looking at how the war played differently in different parts of the country and among men and women who were not liable for the draft.
Contributing to the accounts of the Anabaptist experience, the authors focus on moral dilemmas Mennonites and Amish faced that tested the very core of their faith: How to oppose both slavery and the war to end it? How to remain outside the conflict without entering the American mainstream to secure legal conscientious objector status?
In looking at this epoch-defining event, the authors covered the relationship of faithfulness and relevance and responsibility and idealism involving the conflicts Mennonites and Amish faced to emphasize that their positions were not without their own set of difficulties. The book serves as a good reminder that not all churches immersed themselves in super-charged patriotism for either the Confederacy or the Union and, according to Nolt, highlights the stories of Christians who did not accept war as a means of solving deep conflicts. "We wanted to add to the wider Civil War literature the story of conscientious objectors and the role of religion in questioning war," said Nolt.
"The book is an easy read, with lots of arresting stories of faith under test," said Albert N. Keim, professor emeritus of history at EMU. "Its amazingly thorough research makes the book convincing. After reading it, I was convinced I had just acquired an accurate understanding of my forbears response to the Civil War," he added.
The 376-page hardback book is available for $39.95 at the Goshen College bookstore and national bookstores.
– Jim Bishop, Eastern Mennonite University, & Emily Dougherty, Goshen College
Editors: For more information about this release, to arrange an interview or request a photo, contact Goshen College News Bureau Director Jodi H. Beyeler at (574) 535-7572 or jodihb@goshen.edu.
###
Goshen College, established in 1894, is a residential Christian liberal arts college rooted in the Anabaptist-Mennonite tradition. The college's Christ-centered core values – passionate learning, global citizenship, compassionate peacemaking and servant-leadership – prepare students as leaders for the church and world. Recognized for its unique Study-Service Term program, Goshen has earned citations of excellence in Barron's Best Buys in Education, "Colleges of Distinction," "Making a Difference College Guide" and U.S. News & World Report's "America's Best Colleges" edition, which named Goshen a "least debt college." Visit www.goshen.edu.