Monday, October 21, 2002
Faith works: GC alumni traces path from jail to culture for service;
Outley receives GC Culture For Service Award with speech to student body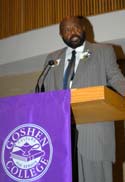 GOSHEN, Ind. Ä Sylvester Outley, came from a Christian family, but chose to go a different way. That way landed him on the Texas Ąmost wanted" list and in jail. But, in an Oct. 4 speech at Goshen College, the former convict told of his transformation from prison to Goshen College graduate and founder of Philadelphia's largest drug and alcohol treatment center.
Outley, a 1969 Goshen College graduate, was one of four 2002 Culture For Service Award winners, an award designed to honor Goshen College alumni who live out the college's motto of ĄCulture for Service." He spoke during the college's alumni weekend.
Well acquainted with drug addiction and the hardships of life on the streets, Outley is a survivor and says he Ąprove[s] that Jesus is a powerful transformer of people." By age 30, he had been arrested 86 times for involvement with drugs and fraudulent behavior and received a 10-year prison sentence in 1955.
Outley recalled sitting on his grandpa's knee as a child, listening to him try to instill Christian values in him, but said he was Ątoo slick to listen to anybody."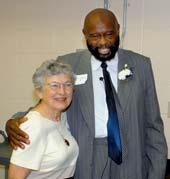 A two-year jail term finally broke him down emotionally and physically. He was, at first, isolated from the rest of Huntsville State Penitentiary because of his heroin addiction and placed in solitary confinement in anticipation of his death. ĄI went in there and got reduced to an absolute slave," Outley said.
By the end of his incarceration, he was reduced from more than 200 to a mere 160 pounds, but also worked as a crew chief for one of the prison's worker units.
Through the dehumanizing experience of imprisonment, the seed of Outley's faith was planted and began to take root. God became a friend and, as his faith continued to build, Outley said he became more dependent on that belief. ĄI didn't know what it was all about, but it was the work of God," he said. ĄTwo of the smartest moves that God ever made, to me as an individual, were to put me in the penitentiary and to bring me to Goshen."
Outley was transformed. He earned a graduation equivalency degree in prison and after his release, on the advice of a Chicago social worker, visited Goshen College ¸ an environment unlike any he had previously encountered.
ĄI didn't know anything about white folks," he said. But ĄI felt something (at Goshen) that made me feel this is the place to be." At Goshen, people talked to him and accepted him as he was ¸ even when college life became a challenge ¸ he felt he could handle guns and drugs more easily than academics. But he remembered Ąa little voice saying, Õkeep the faith.'"
Outley recalls a fellow classmate in the biology class taught by the late Frank Bishop, professor emeritus of biology ¸ Outley's first class in his first semester in college. Roger Beachy '66, a 2001 Culture For Service recipient and
R&D
Magazine
's 1999 Scientist of the Year, was his patient biology tutor who helped him strive for a passing grade. When that grade did not come, it was Bishop, who tapped him on the shoulder and lifted him up.
ĄÕI want you to know,' he said, his hand on my shoulder, Õyou are college material,'" Outley said, quoting Bishop. ĄI learned that I was amongst spiritual giants here and all of them cared equally the same. Ų They were picking up on my faith. They were picking up on my vibes. They knew I wasn't academic material, but they supported me."
Now Outley, who eventually made the dean's list, helps other people understand they are good material. ĄI have used that same hand on the shoulders of many," he said.
ĄEverything that you could possibly want, the thing that you're running after, is all inside of you," Outley said. ĄYou want discipline ¸ it's inside of you. You want faith ¸ it's inside of you. You want courage ¸ it's inside of you. Ų And if you want faith, you want that kingdom of God that's inside of you Ų and that will make everything else work."
After leaving Goshen with a social work degree, Outley earned master's and doctoral degrees before founding the Socio-Emotional Learning and Family Center in Chester County, Pa., a therapeutic residential program for criminals, as well as Outley Professional Services, an outpatient drug and alcohol facility in Philadelphia, now known as SELF.
Other Culture For Service recipients were Ed '58 and Theo '57 Hartzler Yoder, Archbold, Ohio, and Kathleen Zehr '40 of Lowville, N.Y., recognized, respectively, for their commitment to helping students attend college and work with higher education and the elderly.
Goshen College is a national liberal arts college known for leadership in international education, service-learning and peace and justice issues in the Anabaptist-Mennonite tradition. Recognized for its unique Study-Service Term program and exceptional educational value, GC serves about 1,000 students in both traditional and nontraditional programs. The college earned citations of excellence among
U.S. News & World Report
,
Yahoo!
and
Barron's Best Buys in Higher Education
. For more information, visit
https://www.goshen.edu/
.
¸
Ayo Cole
Editors: For information, contact Ryan Miller at (574) 535-7572 or

ryanlm@goshen.edu

.
###