Friday, October 7, 2005
Merry Lea Environmental Learning Center install 100-foot wind generator for 'green' facility
WOLF LAKE, Ind. – Even as the White House called for energy conservation in the wake of Hurricane Katrina and projected increased winter heating costs, Goshen College's Merry Lea Environmental Learning Center took its own major step toward energy independence for its Rieth Village, an environmentally sustainable facility now under construction.
On Oct. 4, contractors installed a 10-kilowatt wind generator that will generate up to 20 percent of the facility's electrical needs. Grants from the United Service Foundation and from the Energy Group, Office of the Lieutenant Governor, State of Indiana, funded the bulk of the turbine, tower and installation. Emergency Radio Services of Ligonier assembled the 100-foot frees
tanding tower, and Schmidt Electric of Fort Wayne hooked up the generator's electrical system and attached the 11-foot, specially-engineered, fiber-reinforced plastic blades. By late afternoon, the generator and tower were in place ready for final connection when the adjacent buildings are completed.
Noble REMC, the local utility company that serves Merry Lea, will meter the electricity produced by the wind generator and purchase the excess. Likewise, Merry Lea will draw on Noble REMC when wind resources are not adequate.
"Our energy cooperative has not had a client install a wind generator for some time," said Ron Raypole, manager of engineering and construction at Noble REMC. "We are eager to see how this installation plays out."
The Bergey Windpower Co. of Norman, Okla., a leading manufacturer of small business and residential wind systems, built Merry Lea's wind generator. The 100-foot steel tower is anchored in a block of concrete, and it is designed to withstand the stress when large blades turn in high winds. The height is necessary to avoid turbulence created by buildings and trees.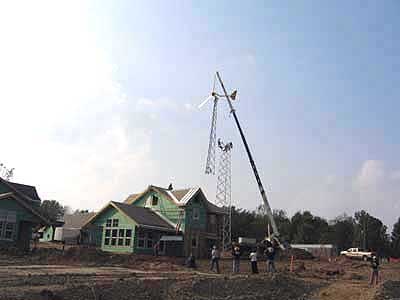 While Merry Lea's wind generator represents 21st century technology, generating electricity with wind is not new to Noble County. Several area residents currently generate some of their own power or have done so in the past. Most installed wind generators in the late 1970s when the first energy crisis hit and federal and state tax credits for alternative energy installations were granted.
Based on the wind resources at Merry Lea's site, the generator is expected to produce approximately 14,000 kilowatts of electricity per year – a level that will meet at least 20 percent of the projected needs of Rieth Village when all buildings are completed.
When planning for Rieth Village began three years ago, Merry Lea's engineer, Alan Chalifoux of Eta Engineers, calculated simple payback on Merry Lea's wind generator (compared to the cost of other energy) at 17.8 years. However, with each increase in energy costs, the break-even point comes closer to the present. The wind turbine is expected to last 35 years, so Chalifoux places the rate of return on investment at least 23 percent.
In recent years, conducting required maintenance and obtaining parts and service have been the greatest obstacles for area residents who wish to generate their own power from wind. Merry Lea's modern wind turbine should avoid some of those problems.
Students who live at Rieth Village will monitor their consumption of energy and the generator's ability to provide it as part of their educational experience. This is similar to the educational role of a comparable unit installed some years ago by Indiana Michigan Power at Fort Wayne's Science Central. However, in Merry Lea's case, the generator is a significant source of power for two cottages and an interim academic building.
Rieth Village is a 31,000 square foot collegiate facility which will eventually include an academic building and seven cottages designed to house undergraduate and graduate environmental studies students. Phase one, now under construction, includes two cottages for student housing and a third which will serve as a temporary academic building.
Producing some of its own power helps Rieth Village receive a higher rating by the U.S. Green Building Council's Leadership in Energy and Environmental Design (LEED). Solar and wind power, cisterns to recycle rainwater, structural insulated panels and careful teamwork all help to improve the score. Rieth Village will be ready to receive students interested in studying agroecology, natural history and environmental education in May 2006.
Merry Lea Environmental Learning Center of Goshen College is an 1,150-acre nature preserve located in central Noble County, about 30 miles northeast of Fort Wayne. It is owned and operated by Goshen College, Goshen, Ind.
Currently, over 7,000 people visit Merry Lea each year. Its staff of 15 provides environmental education to over 6,000 school children as well as hikes and workshops for the general public and undergraduate and graduate academic courses.
Photos of the installation of the wind generator and additional technical information may be found at www.goshen.edu/merrylea/collegiate/riethvillage.html.
-- by Larry Yoder
Editors: For additional information contact Jennifer Schrock at Merry Lea jenniferhs@goshen.edu or (260) 799-5869.
###