Friday, October 7, 2005
Art critic Terry Barrett to offer 2005 Eric Yake Kenagy Visiting Artist lecture on Oct. 20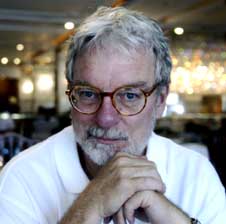 GOSHEN, Ind. – An expert in contemporary art criticism, Terry Barrett, is the Goshen College Art Department's 2005 Eric Yake Kenagy Visiting Artist.
Barrett, professor of art education at The Ohio State University, will give a presentation titled "Art and Meaning" at 7 p.m. on Oct. 20 in the Rieth Recital Hall, located in the campus Music Center. Barrett is the first art educator to be part of the 17-year-old art series. He will speak about his areas of expertise – art education and critique. The lecture is free and open to the public; a reception will follow.
In describing the Eric Yake Kenagy Visiting Artist series, Associate Professor of Art Judy Wenig-Horswell said, "We try to bring significant artists or persons involved with the arts, in order to enrich our art program and make connections across disciplines when possible. Barrett has great skills in engaging students, and I believe he has the ability to inventively engage people in looking at art and interpreting it."
Barrett, an art critic in education for the Ohio Arts Council, is the recipient of the Ohio State University Distinguished Teaching Award and is an Honored Educator of the Midwest Society for Photographic Education. He has presented invited lectures on contemporary art and its criticism at universities across the United States and around the world, as well as serving as a consultant to the education departments of many art museums and institutions.
Barrett obtained a bachelor of arts degree from Webster College, and went on to earn a master's degree and doctorate in art education from The Ohio State University. He has authored five books, including "Art: Form and Meaning"; "Interpreting Art: Reflecting, Wondering and Responding"; "Criticizing Art: Understanding the Contemporary"; "Criticizing Photographs: An Introduction to Understanding Images"; and "Talking about Student Art." He has also contributed chapters to other books, published articles, edited an anthology and is currently working on an introductory text for college art students with his wife, Susan. Between 1973 and 1982, Barrett exhibited art photographs in more than 30 solo and group exhibitions.
The Hershberger Art Gallery in the Music Center will also feature an exhibition of prints and drawings from the Printworks Gallery of Chicago, which specializes in artworks on paper. This exhibit will run through Jan. 3, 2006.
Along with the public lecture, Barrett will engage in a number of other activities on campus, including classroom discussions and meeting with students and faculty.
Barrett is the 19th Eric Yake Kenagy Visiting Artist Program speaker. The program honors the late Eric Yake Kenagy, who was a gifted ceramics student at Goshen College from 1984 until his death in 1986. Through this program, his family and friends wish to celebrate the creativity Eric expressed in his too-short life, and to share with Goshen College and its friends events that will inspire others to develop their own creativity.
- Jennifer Rupp
Editors: For more information about this release, to arrange an interview or request a photo, contact Goshen College News Bureau Director Jodi H. Beyeler at (574) 535-7572 or jodihb@goshen.edu.
###
Goshen College, established in 1894, is a four-year residential Christian liberal arts college rooted in the Anabaptist-Mennonite tradition. The college's Christ-centered core values – passionate learning, global citizenship, compassionate peacemaking and servant-leadership – prepare students as leaders for the church and world. Recognized for its unique Study-Service Term program, Goshen has earned citations of excellence in Barron's Best Buys in Education, "Colleges of Distinction," "Making a Difference College Guide" and U.S.News & World Report's "America's Best Colleges" edition, which named Goshen a "least debt college." Visit www.goshen.edu/.