Friday, September 15, 2006
Goshen College Art Department celebrates 50 years with faculty art exhibit
Art exhibit: 50th Anniversary Goshen College Art Faculty Exhibit (Sept. 7-Oct. 22)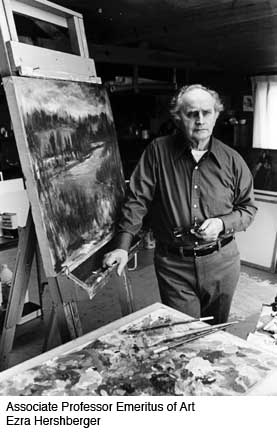 Dates: Sept. 7-Oct. 22
Reception: Oct. 6, 6-8 p.m.
Location: Hershberger Art Gallery, Goshen College Music Center
Cost: Free and open to the public
Web site: www.goshen.edu/art
GOSHEN, Ind. – Celebrating its 50th anniversary, the Goshen College Art Department is currently displaying works by current and former art faculty members. The exhibit, located in the college's Hershberger Art Gallery, features pieces from the beginning, prior to 1955, when Associate Professor Emeritus of Art Ezra Hershberger began to develop the art program with only a few students. Since then, the department has had over 400 students graduate with art degrees.
The exhibit features two or three pieces of art – in varying mediums – from approximately 16 faculty artists, and is on display until Oct. 22, with a reception on Oct. 6 from 6 to 8 p.m. Each faculty artist participating in the exhibit has taught at the college for at least two years.
The anniversary events also include a panel discussion, open studios by Professors Emeritus of Art Abner Hershberger and Marvin Bartel and an Afternoon Sabbatical Series program "Growth of a Dream: The Goshen College Art Department at 50" on Oct. 10 at 1 p.m. in Sauder Concert Hall.
Prior to 1955, when Hershberger began to build the program, Goshen College did not offer an art major, though a few classes were taught. At that time, Mennonite students who wanted to study art usually had to go elsewhere, such as the nearby Chicago Academy of Fine Arts. What finally brought an art major to Goshen was a change in state guidelines toward licensure for teaching, which began to require preparation to give art instruction.
Anniversary schedule:
Oct. 6 – 6-8 p.m., Exhibit reception, Hershberger Art Gallery
Oct. 6 – 8:30-10 p.m., Open Art Studio, Abner Hershberger home studio

CANCELLED

Oct. 7 – 2 p.m., Visions and Revisions Panel Discussion, Rieth Recital Hall
This discussion will feature stories from the past 50 years, plus visions for the future.
Oct. 7 – 3:30-5 p.m., Open Art Studio, Marvin Bartel home studio
Oct. 10 – 1 p.m., Afternoon Sabbatical: "Growth of a Dream: The Goshen College Art Department at 50," Sauder Concert Hall,
The receptions and open studios will allow for further informal conversation to continue following the faculty exhibit reception and panel discussion.
The Hershberger Art Gallery, located in the Music Center, is open from 9 a.m. to 4:30 p.m. Monday through Friday, from 1 to 4 p.m. Saturday and from 2 to 4 p.m. Sunday. The building is accessible to people using wheelchairs and others with physical limitations.
Editors: For more information about this release, to arrange an interview or request a photo, contact Goshen College News Bureau Director Jodi H. Beyeler at (574) 535-7572 or jodihb@goshen.edu.
###
Goshen College, established in 1894, is a four-year residential Christian liberal arts college rooted in the Anabaptist-Mennonite tradition. The college's Christ-centered core values – passionate learning, global citizenship, compassionate peacemaking and servant-leadership – prepare students as leaders for the church and world. Recognized for its unique Study-Service Term program, Goshen has earned citations of excellence in Barron's Best Buys in Education, "Colleges of Distinction," "Making a Difference College Guide" and U.S.News & World Report's "America's Best Colleges" edition, which named Goshen a "least debt college." Visit www.goshen.edu.