Monday, August 28, 2006
Maple Scholar investigates applying theories of ethnic peace to Ethiopia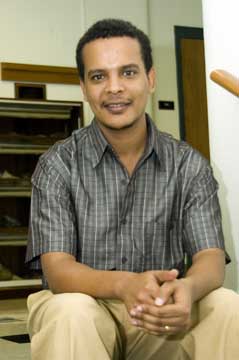 GOSHEN, Ind. – In conducting his Maple Scholars research, Dawit Kebede, a senior and peace, justice and conflict studies major, has been breaking new ground in the unexplored topic of Christian and Muslim relations in his home country. What he has found could have implications for other ethnic conflicts around the world.
Maple Scholars is an eight-week program that gives students the opportunity to participate in independent research alongside Goshen College faculty of various disciplines. Each scholar is paired with a faculty member who works and supervises the individual to help carry out their work. Kebede's adviser was Jan Bender Shetler, associate professor of history, who has extensive knowledge and experience about that region of Africa, having most recently led a Study-Service Term unit in spring 2005 to Ethiopia.
"I got the idea for this research while leading SST in Ethiopia, and was really intrigued by what we heard from talking to people about the Christian-Muslim relations in the country," said Shetler.
Christians and Muslims make up the majority of the religious people in Ethiopia, and the two groups have lived together for thousands of years. In 1991, a new government took power and implemented a plan called "ethnic federalism," dividing Ethiopia into nine different regions based on ethnicities. "Since then, there has been a resurgence of religious and ethnic identity," said Kebede, who is from Ethiopia.
While preparing for teaching a course in ethnic conflict, Shetler read a book by Ashutosh Varshney, written in 2002, titled, "Ethnic Conflict and Civic Life: Hindus and Muslims in India" and wondered if his theories could be applied to the Christian-Muslim relations in Ethiopia. Varshney is a political science professor at the University of Michigan who has extensively studied the connection between ethnic conflict and civil life in cities in India.
"Varshney said there is a connection between conflict and civic life," said Kebede. "He found that the more inter-ethnic institutions there were that brought various groups together, the less ethnic conflict there was. He's the pioneer in this belief, making a shift from studying why ethnic conflict exists, to why ethnic peace exists."
"With a strong civic life," said Shetler, "where the people are talking with each other, if tension is building, they can go to one another and dispel rumors and hopefully then keep the violence down."
Shetler wanted to pursue Varshney's theories with Ethiopia, however was not sure who could help carry out the research. She was thrilled that Kebede was interested in the topic and available. " Dawit is just perfect. He is Ethiopian, so he could look at the Amharic sources," said Shetler. "He is an articulate, bright and driven student."
Kebede searched the Amharic newspapers from 1991 to 2005 and documented the ethnic conflicts in Ethiopia. "Findings showed that there wasn't a real problem of ethnic conflict, despite this new policy of ethnic federalism," said Kebede. He found about 20 small individual conflicts over the course of 15 years, but none had really escalated.
With this data, Kebede believes Varshney's theory is applicable to the situation in Ethiopia. It is Ethiopia's civic institutions, or very local connections and ground organizations, that have promoted social interaction among the two religious groups for thousands of years.
Kebede and Shetler were able to meet with Varshney to discuss their research. "He was very interested in the project and helped us think about how his theories fit and how they don't," Shetler said. "He said, 'You have to nail this and get an article out.'"
Kebede appreciated the opportunity to make the change from studying ethnic conflict, to studying what people can learn from peaceful societies. "I hope we might be able to apply this information elsewhere, particularly to shed light on Africa," he said.
The research done this summer, Shetler believes, could be a springboard for Kebede's future. "Dawit is a peace studies major, and wants to go to grad school for peace studies and eventually teach, pursue peace studies in Ethiopia," said Shetler. "He could use this research for his dissertation, really build a career out of this."
Upon Varshney's recommendation, Kebede said the next step for his research after this summer will hopefully be to travel to Harar, Ethiopia, for four to six weeks to study that specific environment and do a pilot study, further applying Varshney's research.
– By Megan Blank '07
Editors: For more information about this release, to arrange an interview or request a photo, contact Goshen College News Bureau Director Jodi H. Beyeler at (574) 535-7572 or jodihb@goshen.edu.
###
Goshen College, established in 1894, is a four-year residential Christian liberal arts college rooted in the Anabaptist-Mennonite tradition. The college's Christ-centered core values – passionate learning, global citizenship, compassionate peacemaking and servant-leadership – prepare students as leaders for the church and world. Recognized for its unique Study-Service Term program, Goshen has earned citations of excellence in Barron's Best Buys in Education, "Colleges of Distinction," "Making a Difference College Guide" and U.S.News & World Report's "America's Best Colleges" edition, which named Goshen a "least debt college." Visit www.goshen.edu
---