Thursday, August 13, 2009
Goshen College students immersed in varied summer research
GOSHEN, Ind. – From studying the educational needs of the local Latino community to the grieving habits of the Amish to deer herbivory, 17 Goshen College students spent the summer doing intense study and research during the college's eight-week Maple Scholars program.
Maple Scholars gives students the opportunity to participate in independent research projects alongside Goshen College faculty of various disciplines. Each scholar is paired with a faculty member who serves as both colleague and supervisor. It ran this year from June 8 to July 31.
The 2009 Maple Scholars: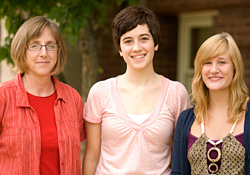 Rachel Halder
(junior, Parnell, Iowa), a communication major, and
Elizabeth Speigle
(junior, Telford, Pa.), a sociology major, worked on a project about the Costa Rican women's movement, with Professor of English Beth Martin Birky.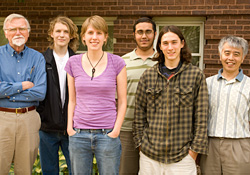 Becca Friesen
(2009 graduate, Newton, Kan.), a physics major, and
Noah Weaverdyck
(junior, Ann Arbor, Mich.), a physics and mathematics double major, investigated cholesterol structures in biological membranes, with Professor of Physics Carl Helrich.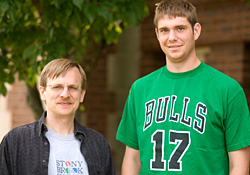 Seth Unruh
(2009 graduate, Wayland, Iowa), a mathematics major, researched fair allocation methods in mathematics, with Professor of Mathematics and Computer Science David Housman.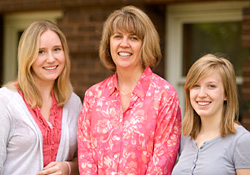 Melissa MacGregor
(2009 graduate, Glen Ellyn, Ill.), a history and investigative skills major, and
Leah Yoder
(junior, Salem, Ore.), a social work major, worked on a project that examines factors that lead the Amish to participate at a local grief center (Ryan's Place), with Associate Professor of Social Work Carol Jarvis.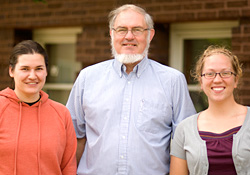 Audra Christophel
(2009 graduate, Moundridge, Kan.), a peace, justice and conflict studies major, and
Amy Showalter
(2009 graduate, Harrisonburg, Va.), a Bible and religion major, studied vengeance and forgiveness strategies from biblical, theological and anthropological perspectives, in order to strengthen peace theology and practice, with Professor of Bible and Religion Paul Keim.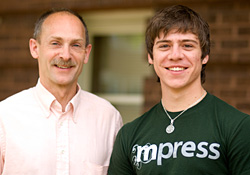 Adriel Santiago
(junior, Souderton, Pa.), a communication and theater double major, researched online new services and implement findings to the Goshen College Record Web site – creating a site that is a complete multimedia experience, with Associate Professor of Physics Paul Meyer-Reimer, and Professor of Communication Duane Stoltzfus.
Sara Alvarez
(freshman, Goshen), a sociology major, researched education needs and assets of the Latino community in northeastern Indiana, with Center for Intercultural Teaching and Learning Research Director Robert Reyes.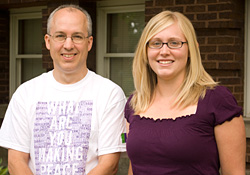 Erin Diller
(2009 graduate, Bluffton, Ohio), a biology major, researched the role of amino acid residues in the folding of E. Coli serine hydroxymethyltransferase, with Associate Professor of Chemistry Doug Schirch.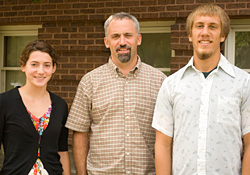 Jeremy Good
(senior, Reading, Pa.), an environmental science and biology double major, and
Adie Gerig
(junior, Mishawaka, Ind.), an environmental science major, studied the effects of deer herbivory on tall grass prairie forbs, with Assistant Professor of Biology Ryan Sensenig.
Kristen Steiner
(sophomore, Geneva, Ind.), a molecular biology major, studied color genetics of domestic pigeons, with Professor of Chemistry Dan Smith.
Joshua Hertzler
(junior, Marietta, Pa.), a history major, and
Anna Showalter
(senior, Waynesboro, Pa.), a history and music double major, researched the history and practice of 20th century Mennonite youth ministry with Bob Yoder, campus pastor and assistant professor and director of youth ministry.
Professor of Physics Carl Helrich, who has been the director of the Maple Scholars program since it began in 1998, believes the program is a unique opportunity for students to work directly with a professor or faculty member. Unlike undergraduate research projects at larger universities, where students often work only with graduate students, students in Maple Scholars work with professors who can answer their questions and guide them in their research and learning.
Students also get the chance to discuss their work together in a colloquium each Friday, and there they share their project and engage other students across disciplines.
– By Tyler Falk
Editors: For more information about this release, to arrange an interview or request a photo, contact Goshen College News Bureau Director Jodi H. Beyeler at (574) 535-7572 or jodihb@goshen.edu.
###
Goshen College, established in 1894, is a residential Christian liberal arts college rooted in the Anabaptist-Mennonite tradition. The college's Christ-centered core values – passionate learning, global citizenship, compassionate peacemaking and servant-leadership – prepare students as leaders for the church and world. Recognized for its unique Study-Service Term program, Goshen has earned citations of excellence in Barron's Best Buys in Education, "Colleges of Distinction," "Making a Difference College Guide" and U.S. News & World Report's "America's Best Colleges" edition, which named Goshen a "least debt college." Visit www.goshen.edu.