Thursday, April 28, 2005
Goshen College business students awarded for their outstanding achievements
GOSHEN, Ind. – Five senior Goshen College business students recently received honors for their academic achievements and competent work in the field.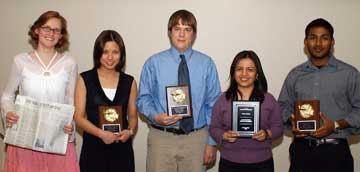 Fallon Will, a business information systems major from Michigan City, Ind., received the Wall Street Journal Award given annually to the most outstanding student in the overall business department based on academic performance, involvement in extracurricular activities on campus and character. Will, daughter of Daniel and Andrea Will, graduated from American School in 2001.
Will, who is also completing a minor in music, is very involved in music on and off campus, giving piano lessons, accompanying choirs and playing a prominent role in the new Goshen College Drum Core.
Diana Torres, an accounting major from Ligonier, Ind., earned the Indiana Certified Public Accountants Society's Award given to the top senior accounting major.
Torres has minors in business and business information systems. Torres, daughter of Jose and Maria Torres, graduated from West Noble High School in 1999.
Torres has been involved with the International Student Club and has volunteered as a Spanish translator with the IRS's free tax preparation program for local residents. Torres just completed an accounting internship with Crowe Chizek, a provider of external audit services to financial institutions, and has accepted a full-time position with them following graduation.
Rachel Naftali, an accounting major from Bandung, Indonesia, received the Accounting Scholar Award. Naftali, who has minors in business information systems and multimedia communication, is the daughter of Irwan Halim and Enggaryani Lukita.
Naftali was active on both the Student Senate cabinet and the International Student Club committee. Naftali has accepted a full-time position following graduation with Crowe Chizek.
Thushan Hemachandra, a double business information systems and communication major from Colombo, Sri Lanka, earned the Business Information Systems Scholar Award. Hemachandra is the son of Indra and Kumi Hemachandra.
Hemachandra, who was a member of the men's tennis team and Campus Activities Council, was also a part of the start-up team that opened Java Junction, the student-run coffee bar on campus. He was also part of a group of students who organized a fund drive toward relief efforts for tsunami victims in January. He will start an internship this summer with LightSky in Goshen.
Jeff Claassen, a double major in business and computer science from Goshen, received the Business Scholar Award. Claassen, son of Mel and Lorna Claassen, graduated from Bethany Christian High School in 2001. He attends Waterford Mennonite Church.
Claassen served as a student assistant in the business department and is currently working on the Society of Actuaries' series of examinations. He has accepted a position following graduation with Mennonite Mutual Aid in their actuarial department.
Goshen College, established in 1894, is a four-year residential Christian liberal arts college rooted in the Anabaptist-Mennonite tradition. The college's Christ-centered core values – passionate learning, global citizenship, compassionate peacemaking and servant-leadership – prepare students as leaders for the church and world. Recognized for its unique Study-Service Term program, Goshen has earned citations of excellence in Barron's Best Buys in Education, "Colleges of Distinction," Kaplan's "Most Interesting Colleges" guide and U.S.News & World Report's "America's Best Colleges" edition, which named Goshen a "least debt college." Visit www.goshen.edu.
– Anna Groff
Editors: For more information, contact News Bureau Director Jodi H. Beyeler at (574) 535-7572 or jodihb@goshen.edu.
###