Monday, April 2, 2007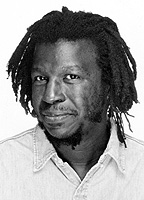 Event: S.A. Yoder Lecture – Cornelius Eady poetry reading
Date and time: 7:30 p.m. on Tuesday, April 10, 2007
Location: Rieth Recital Hall
Cost: Free and open to the public
Notre Dame African American poet, Cornelius Eady, to present at Goshen College, April 10
GOSHEN, Ind. – Distinguished African American poet Cornelius Eady will read from his work during the annual S.A. Yoder Lecture at Goshen College on Tuesday, April 10 at 7:30 p.m. in Rieth Recital Hall at the Goshen College Music Center. Eady is the author and editor of numerous poetry collections and associate professor of English and director of the Creative Writing Program at the University of Notre Dame. The poetry reading is free and open to the public. It will be followed by a reception and book signing.
Most of Eady's poems have a musical quality drawn from the blues and jazz. Indeed, many of his poem titles allude to traditional African-American hymns and modern musicians such as Thelonius Monk and Miles Davis. He has also written frequently about the experience of black men in white America.
Eady is the author of six books of poetry and his work appears in many journals, magazines and anthologies. With poet Toi Derricote, Eady is co-founder of Cave Canem, a summer workshop/retreat for African American poets. He is the recipient of an NEA Fellowship in Literature (1985), a John Simon Guggenheim Fellowship in Poetry, (1993), a Lila Wallace-Readers Digest Traveling Scholarship to Tougaloo College in Mississippi (1992-1993), a Rockefeller Foundation Fellowship to Bellagio, Italy, (1993) and The Prairie Schooner Strousse Award (1994). Eady has also taught poetry at SUNY Stony Brook, City College, Sarah Lawrence College, New York University, The Writer's Voice, The 92nd St Y, The College of William and Mary and Sweet Briar College.
The S.A. Yoder Lecture Series honors Dr. Samuel A. Yoder, a professor at Goshen College from 1930 to 1935 and again from 1946 until his death in 1970. During his career, he was a Fulbright lecturer at Anatolia College in Greece, Smith-Mundt lecturer at the University of Hue in Vietnam, visiting professor at Taiwan University in Formosa, welfare officer under the United Nations in Egypt and Goshen College Study-Service Term leader in Jamaica. Gifts to the series by his family, students and friends have made the endowed lectureship possible.
Previous S.A. Yoder lecturers have included Nobel Prize winner Seamus Heaney, Newberry Award Winner Madeleine L'Engle, humorist Garrison Keillor, Haitian fiction writer Edwidge Danticat, Indiana essayist Scott Russell Sanders and the late American poet Denise Levertov.
Editors: For more information about this release, to arrange an interview or request a photo, contact Goshen College News Bureau Director Jodi H. Beyeler at (574) 535-7572 or jodihb@goshen.edu.
###
Goshen College, established in 1894, is a residential Christian liberal arts college rooted in the Anabaptist-Mennonite tradition. The college's Christ-centered core values – passionate learning, global citizenship, compassionate peacemaking and servant-leadership – prepare students as leaders for the church and world. Recognized for its unique Study-Service Term program, Goshen has earned citations of excellence in Barron's Best Buys in Education, "Colleges of Distinction," "Making a Difference College Guide" and U.S.News & World Report's "America's Best Colleges" edition, which named Goshen a "least debt college." Visit www.goshen.edu.