Tuesday, March 28, 2006
Urban life minister Michael Mata to speak at 2006 Goshen College Commencement April 23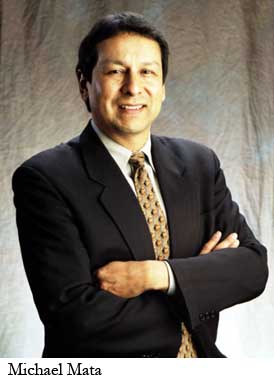 GOSHEN, Ind. – Urban life minister Michael A. Mata of Los Angeles, Calif., will present the 108th graduating class of Goshen College with the final address of their undergraduate careers as they prepare to leave Goshen College and begin their new journeys in the world.
Mata will present his commencement address, "Dancing to the Rhythm of a Different Tune," at 3 p.m. in the college's Roman Gingerich Recreation-Fitness Center on Sunday, April 23, 2006, following an 11 a.m. Baccalaureate service. Approximately 235 seniors will receive diplomas from Goshen College during the service.
Mata is currently national director of the Tools for Transformation Program of World Vision U.S. For the past 25 years, he has designed and administered ministry and community programs, particularly in the areas of community ministry, congregational redevelopment, transcultural outreach, leadership development and Latino ministry for various organizations around the country and specifically in the Los Angeles area.
Goshen College 2006 Commencement Weekend Schedule:
Saturday, April 22
9:30 a.m.-4 p.m. & 7-10 p.m. – Senior Art Exhibit, Hershberger Art Gallery, Music Center
1:30 p.m. – 
Senior Nurses' Pinning Ceremony and reception, Church-Chapel
2-5 p.m. – 
Informal departmental receptions, various locations on and off campus
7:30 p.m. – 
Senior Class Program, Sauder Concert Hall, Music Center
8:45-10:30 p.m. – 
President's Reception for graduates and their families, hosted by John and Winifred Yordy, Music Center lobby
Sunday, April 23
11 a.m. – 
Baccalaureate Service, Church-Chapel
Sermon by Joe Liechty, associate professor of peace, justice and conflict studies at Goshen College

3 p.m. – 108th Annual Commencement, Roman Gingerich Recreation Fitness Center (Public invited, no tickets needed)
Commencement address by Michael Mata, an urban life minister in Los Angeles, Calif.

Mata served 17 years as part of the pastoral team at Los Angeles First Church of the Nazarene, a multi-ethnic/multi-congregation church with a highly regarded community program and prominent Hispanic ministry, and two years as pastor of urban mission at Pasadena First Church of the Nazarene. He is the former director of the Urban Leadership Institute, the Mildred M. Hutchinson Assistant Professor of Urban Ministry at the Claremont School of Theology, where he stills serves as adjunct professor of urban ministries, and director of the Bresee Institute.
With a vast knowledge of church ministry and urban life and community development, Mata is a much sought-after speaker and consultant. Goshen College's president-elect, Dr. James Brenneman, founding and longtime pastor of Pasadena (Calif.) Mennonite Church has known Mata for many years. The two became closer colleagues during a year-long seminar that Mata led in Los Angeles at the Urban Life Institute. "Michael is one of the most visionary Christ-centered urban leaders in the United States. He has an outstanding record of bringing together leaders of differing political, religious, theological, ethnic and cultural perspectives to work together for the social and spiritual good of the city, indeed, the nation and world," Brenneman said. "Michael will inspire not only new Goshen College graduates, but all of us, to live out Christ's just peace in practical and contagious ways whatever our calling or training."
Mata is currently a doctoral candidate at the School of Policy, Planning and Development at the University of Southern California. He also holds a master's degree in city planning from the University of California at Berkeley, master of divinity and master of arts degrees from Nazarene Theological Seminary and Point Loma Nazarene University respectively.
Editors: For more information about this release, to arrange an interview or request a photo, contact Goshen College News Bureau Director Jodi H. Beyeler at (574) 535-7572 or jodihb@goshen.edu.
###
Goshen College, established in 1894, is a four-year residential Christian liberal arts college rooted in the Anabaptist-Mennonite tradition. The college's Christ-centered core values – passionate learning, global citizenship, compassionate peacemaking and servant-leadership – prepare students as leaders for the church and world. Recognized for its unique Study-Service Term program, Goshen has earned citations of excellence in Barron's Best Buys in Education, "Colleges of Distinction," "Making a Difference College Guide" and U.S.News & World Report's "America's Best Colleges" edition, which named Goshen a "least debt college." Visit www.goshen.edu.