Wednesday, March 26, 2008
Chicago's premier Mexican folk group, Sones de México, to perform in Goshen April 8
GOSHEN, Ind. – Sones de México, a unique ensemble of seasoned Mexican folk musicians and educators that hails from Chicago, will perform at Goshen College in the Music Center's Sauder Concert Hall on Tuesday, April 8 at 8 p.m., following a 7:15 p.m. panel discussion about Mexican folk music. This concert will be free and open to the public, though tickets are required and can be reserved by calling the Goshen College Welcome Center at (574) 535-7566.
Sones de México formed in 1994 to keep the tradition of Mexican son alive in its many regional forms, true to its roots and old masters, and current and fresh at the same time. In Mexico, son is a term used to define a large family of regional music and dance styles. Each region has its own brand of son, each with its own repertoire, instruments and dancing and singing styles.
In 2007, Sones de México was a Grammy Award Nominee for Best Mexican/Mexican-American Album and a Latin Grammy Award Nominee for Best Folk Album. In a review, the Chicago Tribune wrote, "[They] move seamlessly between styles and instruments playing with rock'n'roll energy without sacrificing cultural authenticity."
In concerts, audiences watch as the group works its way through a collection of more than 25 folk string, percussion and wind instruments and employs bright four-part vocal arrangements and acrobatic dance demonstrations. Audiences are easily moved to dance. The group recreates the atmosphere of a traditional fandango (dance fiesta), where the most colorful, joyous and upbeat sones are played and danced until sunrise. The group's cross-cultural view of music links son to the diverse ethnic roots of Mexico's mestizo culture: Native American, Spanish and the often-overlooked influence of Black music in Mexico.
The group includes director Víctor Pichardo, producer and ethnomusicologist Juan Díes, award-winning dancer and musician Lorena Iñiguez, master violinist Juan Rivera, multi-instrumentalist Zacbé Pichardo and master drummer Javier Saume. Together, they play son, and its many regional styles, including huapango, gustos, chilenas, son jarocho and the roots of mariachi music.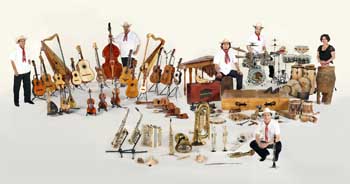 The group's 2007 release, "Esta Tierra Es Tuya" is an homage to the contribution of immigrants to the United States and the ensemble's most ambitious studio project to date.

This concert is being sponsored by Goshen College's Center for Intercultural Teaching and Learning. Begun in late 2006, the Center for Intercultural Teaching and Learning aims to show how small liberal arts colleges can best serve the rapidly growing Latino population in the United States.

 The center focuses on research, educational access and transforming the learning community at Goshen College.

Editors: For more information about this release, to arrange an interview or request a photo, contact Goshen College News Bureau Director Jodi H. Beyeler at (574) 535-7572 or jodihb@goshen.edu.

###

Goshen College, established in 1894, is a residential Christian liberal arts college rooted in the Anabaptist-Mennonite tradition. The college's Christ-centered core values – passionate learning, global citizenship, compassionate peacemaking and servant-leadership – prepare students as leaders for the church and world. Recognized for its unique Study-Service Term program, Goshen has earned citations of excellence in Barron's Best Buys in Education, "Colleges of Distinction," "Making a Difference College Guide" and U.S.News & World Report's "America's Best Colleges" edition, which named Goshen a "least debt college." Visit www.goshen.edu.