Friday, March 10, 2006
'After Mrs. Rochester' makes Midwest premiere at Goshen College, March 17-26
Event: Goshen College spring mainstage play – "After Mrs. Rochester" by Polly Teale
Dates and times: March 17, 18, 24, 25 at 8 p.m. and March 19, 26 at 3 p.m.
Location: Umble Center
Cost: $8 general admission, $5 students & seniors
For more information: To reserve tickets, call the Goshen College Welcome Center at (574) 535-7566 or e-mail welcomecenter@goshen.edu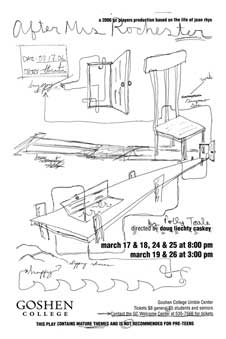 GOSHEN, Ind. – When Goshen College senior theater major Lindsay Nance was in London several years ago for an arts class, she saw a performance of the play "After Mrs. Rochester" by Polly Teale and became convinced that it was a play the Goshen College Theater Department should do.
After the script – which has to date been performed only in England – was released for amateur performance last fall, Goshen College secured the rights to premiere the play in the Midwest. The spring mainstage production is scheduled for March 17, 18, 24, 25 at 8 p.m. and March 19, 26 at 3 p.m. in Umble Center. And Nance will be starring in one of the lead roles.
The play interweaves fiction with historical fact in its exploration of the turbulent life of Jean Rhys, author of the novel "Wide Sargasso Sea" (1957), which invents the childhood and early life of Mrs. Bertha Rochester, the insane and violent wife of the character Mr. Rochester in Charlotte Bronte's "Jane Eyre." Locked away in a lonely wing of fictional Thornfield Hall, Mrs. Rochester threatens the new relationship of her husband's and indeed the very lives of Jane and Mr. Rochester. Jean Rhys' novel attempts to explain how Bertha married Mr. Rochester and how she lost her sanity.
The play opens in a locked room in a remote cottage in the English countryside where Jean Rhys is attempting to write a novel, until a knock at the door disrupts her work and sends her on an emotional journey – reliving her childhood and eventual young adult experiences – that will finally enable her to create the novel she had struggled to compose. At one point, an editor/publisher in the play says to Jean: "We are all of us adrift. All of us alone and afraid and searching for meaning. That is why we read. Why we write. Why we talk to one another. We are hoping to bridge that great chasm between ourselves and others. To find ourselves in a story."
The Goshen College production of "After Mrs. Rochester" attempts to "explore that social chasm, potentially extending a story, a bridge for the audience to traverse," said Goshen College Professor of Communication and Theater Doug Liechty Caskey, director of the production. Seniors Cassie Greer (South Bend, Ind.), Nicole Miazgowicz (Temperance, Mich.) and Lindsay Nance (Winnipeg, Manitoba, Canada) – all quite familiar with the Umble Center stage – will play the lead roles who make up the personality of Jean Rhys. Last summer the three students worked together to research, write and perform the play "Kolo" as a Maple Scholars summer research project. "They work together so well that it makes sense that they would play these three roles," Liechty Caskey said. "We have such a strong group of senior actors and designers that I feel very good about doing such an ambitious play."
Eleven other company members play various characters that pass in and out of Jean's memory as she seeks to make sense of her past and present.
According to Liechty Caskey, the play examines what compels artists to create, or more specifically in this case, what compels people to write. The set for this production will emphasize the literary component, with books and pages strewn about. The play itself offers "a potent testimony to the power of literature – how fictional characters can take over our consciousness and in some way cleanse it," said a London critic. "It is also a witness to the compulsion of writing and how this can transform the most broken of emotional lives.
This play contains mature themes and is not recommended for pre-teens. "The play has qualities that explore some of the harder sides of life, but it does it in a way that is interesting and pulls you in," Liechty Caskey said.
In the cast: Cassie Greer (Sr., South Bend), Lindsay Nance (Sr., Winnipeg, Manitoba, Canada), Nicole Miazgowicz (Sr., Temperance, Mich.), Adrienne Nesbitt (Jr., Goshen), Andrew Landis (Fr., Goshen), Ben Noll (Fr., Lancaster, Pa.), Emily Hershberger (Jr., Cedar Falls, Iowa), Emily Swora (Fr., Shoreview, Minn.), Gina Rambow (Fr., Battle Creek, Mich.), Krista Ehst (Soph., Bally, Pa.), Kyle Reinford (Sr., Goshen), Rebecca Fast (Jr., Waterloo, Ontario), Robin Wenger and Sara Thögersen (Soph., Goshen).
In the crew: Technical Director Jerry Peters, Co-Set and Lighting Designer Erin Bontrager, Co-Set and Lighting Designer Eric Meyer (Sr., Millersburg), Sound Designer Nick Loewen (Sr., Goshen), Costume Designer Laura Reist (Sr., Jacksonville, Fla.), Props Designer Kimberlee Rohrer (Sr., Orrville, Ohio), Stage Manager Grace Eidmann (Fr., Antioch, Ill.), Assistant Stage Manager Sarah Jensen (Soph., Everest, Kan.) and Hair/makeup Designer Adrienne Nesbitt (Jr., Goshen).
Umble Center is accessible to wheelchairs and people with other physical limitations.
Tickets cost $8 for general admission and $5 for students and senior citizens. They can be reserved by calling the Welcome Center at (574) 535-7566 or e-mailing welcomecenter@goshen.edu.
Editors: For more information about this release or to arrange an interview, contact Goshen College News Bureau Director Jodi H. Beyeler at (574) 535-7572 or jodihb@goshen.edu.
###
Goshen College, established in 1894, is a four-year residential Christian liberal arts college rooted in the Anabaptist-Mennonite tradition. The college's Christ-centered core values – passionate learning, global citizenship, compassionate peacemaking and servant-leadership – prepare students as leaders for the church and world. Recognized for its unique Study-Service Term program, Goshen has earned citations of excellence in Barron's Best Buys in Education, "Colleges of Distinction," "Making a Difference College Guide" and U.S.News & World Report's "America's Best Colleges" edition, which named Goshen a "least debt college." Visit www.goshen.edu.