Wednesday, March 2, 2005
Goshen College awards first entrepreneurship grant to a senior;
Annual Business Luncheon hosts president of Recreation Vehicle Industry Association
View more photos from this event.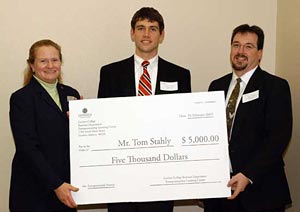 GOSHEN, Ind. – When beginning a new business, one couldn't ask for a better start.
Goshen College senior business major Tom Stahly, from Goshen, is in the first stages of starting his new business called Kipsee, a search engine optimization company. On Feb. 24, during the annual Goshen College Business Luncheon, he was awarded the first $5,000 entrepreneurship grant from the Goshen College Business Department's Entrepreneurship Learning Center (ELC), and had the opportunity to tell a room full of Northern Indiana businesspeople about his plans and how his services could help their businesses.
Stahly has already had an abundance of business experience for still being a student. He has volunteered for ASSETS, a business incubator program for low- and middle-income individuals; interned at Solutions Source, a software consulting firm in Goshen; and was one of three students selected to help start Java Junction, a new student-run coffee bar at the college which opened last fall. Stahly plans to keep his business in Goshen after graduation.
Director of the ELC Melissa Kinsey said, "Tom is driven to accomplish good things, and he is an ideal recipient for the first entrepreneurship grant. Any time a new opportunity is presented, Tom is out in front, wanting to learn more. So we were not surprised to learn that Tom was the first student to submit his completed business plan and application for the entrepreneurship grant."
The goal of the ELC, funded by the Lilly Foundation, is to help prevent Indiana's brain drain of college students leaving the state by assisting them with the resources to start their own businesses. The ELC will continue to give entrepreneurship grants for student business ventures; the grants are available to students from all academic departments, according to Kinsey. As of 2005, an entrepreneurship minor is also available from Goshen College.
"This is a great opportunity for students to start their own business or nonprofit organization while they are still students." Kinsey said. "The timing is perfect, as they are in a creative environment where they can get support and encouragement from students and faculty while developing their business."
In addition to the awarding of the first entrepreneurship grant, the annual Business Luncheon featured keynote speaker David Humphreys, president of the Recreation Vehicle Industry Association, who spoke about why 2004 was the best year in 25 years for his industry. This was his last major address before his successor to the RVIA presidency was to be named. Elkhart County has been called the "RV Capital of the World," with one of every four jobs tied to the industry.
Humphreys became president of the association in 1979, as the industry was at its lowest point and has helped the industry become "in, hot and hip" today, with sales in 2004 at their all-time high for recreational vehicles with 370,000 new RVs sold and $12 billion in revenues. His predictions for the industry long term were also optimistic, as the national trends are in their favor, he said.
In 1979, the nation was in the middle of an energy crisis, conservation was encouraged and RVs were seen as "gas hogs" and "unpatriotic." Consequently, during 1979 and 1980, the industry lost 70 percent of its volume and 80 percent of its people. "Those were dark days," Humphreys said.
Humphreys credited the industry's recovery to RV manufacturers and dealers working together and leading a renewed interest in outdoor recreation. The industry's image has also greatly improved due to a national advertising campaign targeting the Baby Boomer generation and now the Generation X generation. Federal government programs promoting the country's scenic byways and national parks have also greatly helped.
"The next 25 years are only going to get better," Humphreys said.
Goshen College, established in 1894, is a four-year residential Christian liberal arts college rooted in the Anabaptist-Mennonite tradition. The college's Christ-centered core values – passionate learning, global citizenship, compassionate peacemaking and servant-leadership – prepare students as leaders for the church and world. Recognized for its unique Study-Service Term program, Goshen has earned citations of excellence in Barron's Best Buys in Education, "Colleges of Distinction," "Making a Difference College Guide" and U.S.News & World Report's "America's Best Colleges" edition, which named Goshen a "least debt college." Visit https://www.goshen.edu/.
Editors: For more information, contact News Bureau Director Jodi H. Beyeler at (574) 535-7572 or jodihb@goshen.edu.
###